Chemical Engineering Career Talk - 3 Parts - What you need to know about preparing yourself for the industry.
In this session, 3 final year students (Zulhilmi, Sufi Sazmin and Izzati ) from UTM Chemical Engineering Course were given the opportunities to ask any question regarding chemical engineering career ass they are going to seek a job and face the industry in less than 3 weeks time.

WHO WERE IN THIS SHARING SESSION?
Ir. Dr. Zaki Yamani Bin Zakaria (Lecturer, Ex-Engineer, Author) Muhammmad Zulhilmi Bin Zaiful Kamil ~ Pahang Sazmin Sufi Bin Suliman ~ Johor Nurul Izzaty Nor Jefri (IG: nuiz_zaty) ~ Sabah Watch Part 1: https://youtu.be/0NYog5JDExU Watch Part 2: https://youtu.be/oB_jWPBYjMY Watch Part 3: https://youtu.be/ZGqKS8t3Njk Feel free to ask questions related to chemical engineering career and I will try my best to help answer it. RESOURCES: https://www.chem.eng.blogspot.com https://www.chem-eng.online https://people.utm.my/zakiyamani/

...........................................
posted by Kipas Repair JB @ 11:41 AM, ,

This is a great blog in town discussing about chemical engineering. It is almost like this blog of mine. It is run by a chemical engineer, Mr. Barat, from India.
His blog is continuously sharing about chemical industries, pharmaceuticals, refinery, power plant & offshore. It is an alternative learning platform for get lot of updated knowledge about chemical, mechanical, Instrumentation & HSE.
Upon visiting this blog, I can clearly see 5 tabs on the top of the header, that shows the main topic being discussed which are I
nstruments, Piping, Mechanical, Process and Environment & Safety. All of these are crucially imperative for chemical engineers.
Mr. Bharat, who is 31 years old now, started this blog in 2011. He graduated from Indian Institute of Chemical Engineers, India. He is now a Panel officer in Refinery and have vast experiences in chemical engineering related industry.
posted by Kipas Repair JB @ 8:26 AM, ,

I accept this recognition :)
I received an email last week congratulating me because my blog has been selected as the Top 10 Chemical Engineering Blogs in the internet.
The email came from Feedspot.com.
I am not really aware of what is Feedspot but they have somehow acknowledged my Chemical Engineering World blog. Thanks Feedspot.
Then I checked the
link
that they sent to me and saw the top 10 listed blogs and websites. I was very shocked to see that my blog is at no. 3 position after AiChe and IChemE website. That's pretty cool. That means i am in the Top 3 actually....
Wow...
I hope i can continue share great, awesome and relevant information related to Chemical Engineering to our community :)
Thanks for all the support and encouragement.
Here are the complete Top 10 list:
1. aiche.org (AiChe)
2. ichemblog.org (IChemE)
3. chem-eng.blogspot.com (this blog)
4. cheresources.com
5. Chemical Engineering Guy
6. Chemical Engineering Reddit
7. chemicalprocessing.com/blogs
8. thechemicalengineer.com
9. Fauske and associates
10. chemicalengineeringpost.wordpress.com
posted by Kipas Repair JB @ 2:40 PM, ,

The Author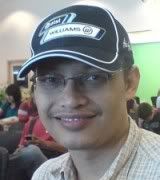 I'm Zaki. I used to be a project, process and chemical engineer. Few years ago I successfully became a Chartered Engineer (IChemE) and Professional Engineer (BEM). I'm now employed as a chemical engineering educator/researcher/consultant. Hope you like reading my blog. I welcome any feedback from you. My email: zaki.yz[alias]gmail.com. TQ!