I accept this recognition :)
I received an email last week congratulating me because my blog has been selected as the Top 10 Chemical Engineering Blogs in the internet.
The email came from Feedspot.com.
I am not really aware of what is Feedspot but they have somehow acknowledged my Chemical Engineering World blog. Thanks Feedspot.
Then I checked the
link
that they sent to me and saw the top 10 listed blogs and websites. I was very shocked to see that my blog is at no. 3 position after AiChe and IChemE website. That's pretty cool. That means i am in the Top 3 actually....
Wow...
I hope i can continue share great, awesome and relevant information related to Chemical Engineering to our community :)
Thanks for all the support and encouragement.
Here are the complete Top 10 list:
1. aiche.org (AiChe)
2. ichemblog.org (IChemE)
3. chem-eng.blogspot.com (this blog)
4. cheresources.com
5. Chemical Engineering Guy
6. Chemical Engineering Reddit
7. chemicalprocessing.com/blogs
8. thechemicalengineer.com
9. Fauske and associates
10. chemicalengineeringpost.wordpress.com
posted by zaki yamani @ 2:40 PM, ,

As a Chemical Engineering Student or Chemical Engineer, I believe that you are very much closely attached with your work place. This is actually your facility, plant etc. This is where you learn and practice Chemical Engineering. It's quite challenging, if you are not sure how to play the game and what you are dealing with. Sometimes, wrong decision can be very costly. You don't want bad thing happen to your facility. You definitely want the best for your facility, correct?
But the question is how to do that? How to make your facility operating at its optimum capacity?
Well, here are five things you can do fast to make a huge imp
act on your sustainability effort.
Sustainability is the IN THING nowadays
. It is very important. It is about more than checking a box. It's about making critical decision that will have a positive and lasting impact on your workplace. From green building certification to sustainable shipping, we are going to share five eco-conscious things you can do to save money in your workplace.
Get this 5 FREE TIPS from the following link (fast download):
posted by zaki yamani @ 12:12 PM, ,

The 3rd quarter of 2018 saw that Universiti Teknologi Malaysia (UTM), my work place for the past 10 years experienced a major restructuring in its organization. I was previously in the Faculty of Chemical and Energy Engineering (FCEE), but after the synergy restructuring, it is now no longer a faculty, but a school. It is now known as the School of Chemical and Energy Engineering (SCEE).
What happen was all 6 engineering faculties were merged into 1 huge engineering faculty, called "Faculty of Engineering" Under the Faculty of Engineering, there are School of Chemical & Energy Engineering, School of Electrical Engineering, School of Civil Engineering, School of Mechanical Engineering, School of Biomedical Engineering and School of Computing.
As a result, our official website also changed. No need to know the old official website domain, I will just let you know the new one.
To get official update on my career, you can visit the website.
Thanks for the note.
By the way, my other half's website is http://people.utm.my/mazura/.
posted by zaki yamani @ 11:51 AM, ,

The Author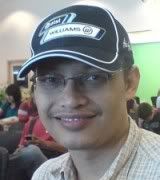 I'm Zaki. I used to be a project, process and chemical engineer. Few years ago I successfully became a Chartered Engineer (IChemE) and Professional Engineer (BEM). I'm now employed as a chemical engineering educator/researcher/consultant. Hope you like reading my blog. I welcome any feedback from you. My email: zaki.yz[alias]gmail.com. TQ!