Chemical Engineering Career

Welcome to my weblog. I just want to share some experience/knowledge that i collected so far as a chemical engineer/project engineer and currently as process engineer. But before that let me introduce myself...

My short name is Zaki. I obtained my Chemical Enginering degree from Bradford University, UK in 1999. Later i did some research in Reaction Engineering in the Faculty of Chemical and Natural Resources Engineering, University Teknologi Malaysia (UTM). After some time, I pursued my Masters Degree, studying Chemical Engineering by Research at UTM. My research title was Optimization of Oxidative Coupling of Methane using Design of Experiment. Well, It's a very challenging subject to do. However, i survived it...
After completing my masters degree, i joined a local oil and gas service company, doing various type of oil and gas activities. With this company, i travelled a lot, here and there, on-shore and offshore, local and over-seas. Well, i enjoyed this job....and the pay is good too!!! However, the good thing did not last long. I have to accept the fact that the management decision to move the company to KL is unavoidable. Having my family and my life in JB, it's impossible for me to leave JB. I had no choice. I have to search for some other job.
Then i when to this interview in a refinery in Pasir Gudang. I was accepted as a process engineer and my task is to take care of one of the largers refinery plant in Pasir Gudang + some other project jobs utility jobs as well. Here i learn a lot.
Having a chemical engineering degree, you can work in various interesting and chalenging field.
You can be working as a chemical engineer, process engineer, project engineer, chemical specialist, researcher, lecturer, consultant, oil & gas field etc. For me, i've been a research officer, work in the chalenging oil & gas field & presently working in an intense oil processing refinery. And i really proud of my task and responsibility
Well, those are basically and briefly my experience so far. InsyaAllah, if God will, i shall share my experience in this journey of a chemical/project/process engineer. Wich me luck...
posted by Kipas Repair JB @ 12:01 AM,

1 Comments:
At Wednesday, August 02, 2006, sam said...
The Author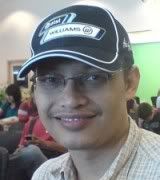 I'm Zaki. I used to be a project, process and chemical engineer. Few years ago I successfully became a Chartered Engineer (IChemE) and Professional Engineer (BEM). I'm now employed as a chemical engineering educator/researcher/consultant. Hope you like reading my blog. I welcome any feedback from you. My email: zaki.yz[alias]gmail.com. TQ!