Colarado Underground Black Gold Questionmark?

On my previous post on the 4th of October 2006, I mentioned about why are we busy cracking our head to think of how to process, produce and commercialize vegetable oil as a renewable energy to replace the fossiel fuel. I met and discussed this matter with an American who happens to be a Endress + Hauser Manager who came to Malaysia conducting some training and seminar, 2 weeks ago.

He said the fact is correct. However, it is very difficult to get the oil from the shale. It may took some super technology to dig and get the oil. It may also take perhaps another 50 years to get the oil underneath Colarado!!! I don't know, this was what the guy said.

I asked my colleague who is a petroleum engineer about the issue. He said, oil inside a shale is very difficult to obtained due to the complexity of the earth/stone structure. The area which have oil is very porous and makes digging the oil very tough. About two years ago, when were having a chat, he said that the fossiel fuel reserve is so big down there. The problem is that the present technology to dig the oil is not there yet. We can only get the oil which is easy to dig!!! Therefore, the oil and gas sector need a more advance method and technology to produce oil which is still available.

And perhaps, in the mean time, the crops can help to ease the pressure of limited energy supply / resources, via biofuel / biodiesel. So, now my paradigm had shift again. Vegetable oil is important to support the energy demand, not replacing them.
posted by Kipas Repair JB @ 12:54 AM,

0 Comments:
The Author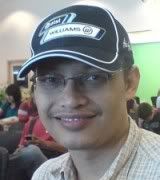 I'm Zaki. I used to be a project, process and chemical engineer. Few years ago I successfully became a Chartered Engineer (IChemE) and Professional Engineer (BEM). I'm now employed as a chemical engineering educator/researcher/consultant. Hope you like reading my blog. I welcome any feedback from you. My email: zaki.yz[alias]gmail.com. TQ!