Let me ask you a question:
"What is the one thing you are expert in?"
Can you give me a fast straight forward answer without taking up to 1 minute to think?
If you can answer this question in just a matter of seconds, then you confidently know what you are good at. That's good. It doesn't matter if the thing you are expert in is associated with academic or not. It can be sport, science, social science, arts, IT etc. Your expertise can also be the one thing that you love to do and can potentially be your career back-up.
As a chemical engineering student/practicing engineer, it is imperative to be good in one or more things. It can add value to yourself. It can add value to your salary. It can add your worth to the company or your future employer/boss. Don't you think so?
I would like to provide some interesting examples for you.
a) My Electrical Engineer Friend
When I was an undergraduate studying in Bradford University, I lived with 3 electrical engineering students and 1 computer science student. One of the electrical engineering student was slightly different. He is special in his own ways. He was passionate about computer defense system. In order to pursue his interest, he purchased additional computer on top of the one he already owns. So he has 2 computers, let's name it A and B. He made computer A - an attacking computer and computer B - a defense computer. Using computer A he attacks computer B using various types of viruses. He tested computer B defense system using the markets' products as well as anti-virus that he creates. He also hacked computer B from computer A and develop a defense mechanism to protect computer B. Non of this activities are related to the curriculum of what he was studying. This was confirmed by my other 2 electrical engineer house mates. Just few years after graduating, he was offered a job related to his passion (his specialty/hobby), which is computer and IT security from a multinational corporation and he was paid handsomely despite still being relatively young. His salary quadrupled mine. This is a really good story to show case what ones interest or expertise can do for his/her career.
b) My Chemical Engineer Friend
I have a chemical engineer course-mate who was very interested in aviation technology. While still a chemical engineering student, I can see his interest towards aeroplanes and the tendency to be a pilot. I lost contact with him but the latest news I heard about him was he had became a pilot, not a chemical engineer. Although he is short-sighted, that never inhibit his interest and expertise to become a pilot.
c) My Petroleum Engineer Friend
A colleague of mine who is a petroleum engineer by education, is very good in computer and have into certain level some technical programming knowledge. He is very business minded and at the same time love to work out some extra money from Forex. He then work out to develop a software robot to operate his Forex activity. He also sell the software to other Forex enthusiasts and make extra cash from both ways. He is happy and his expertise proofs to be beneficial as well.
The three true stories above shows how an interest towards something had led my friends to be an expert in something and finally changed their career path, I would like to share other cases which is related to us, chemical engineers.
I have numerous other stories but I guess that's it for now... haha...
Advice for students and young chemical engineer:
It is good for you to be an expert in something. You can choose something related to your best interest and be really good at it. Being good at it is by training and experience. You can be finally an expert in it and get rewarded nicely.

Let's say you like computer, you can choose a software related to a chemical engineering area which you like and master it. For example you can learn Aspen, Hysis, Matlab, Autocad, Fluent and other numerous softwares. Let's say you are good in writing, you can be a writer. You can write in a technical paper, journal, magazine, guess author, editor, newsletter, perhaps your own blog (like me but I don't claim myself as a good writer. I just love to share stories.) and so on. Let's say you like stuff related to renewable energy. You can start by learning new technologies related to renewable energy and get all updates related to it. You can read and learn various policy applied by our government and also other governments. You can end up be an expert in renewable energy technologies like solar system and biodiesel and end up being a renewable energy consultant or business owner. Who knows?
Well, bottom line, just be an expert in something. It is good. If you are not sure what you are good at, you can ask your close friends. They may know what you are best in and from their input, you will know and focus on something to be an expert. Be good at it and soon the market/industry will seek for your expertise to help solve their problems.
Do you want to share any of your expertise with us? I hope you will.
Following are two recommended resources for your reading pleasure:
Short Description: Learn the six steps to creating a business case for talent.
Publisher: SuccessFactors
Click here to request for a free copy
.
Title: Creating an Effective Resume - Free Video Training Tutorial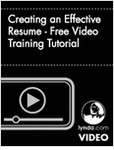 Short Description:
In Creating an Effective Resume, author Mariann Siegert provides step-by-step guidance on creating resumes that highlight accomplishments and specifically target a potential employer's needs.
Topics include:
(1)
Discovering your dream job (2) Avoiding identity theft (3)Reverse chronological (4) Including (or not including) an objective.
Along with the free video training tutorials you will also receive monthly offers, tips, and insider information you won't hear elsewhere--including special discounts extended to newsletter subscribers.
Publisher:
Lynda.com Inc.
posted by Kipas Repair JB @ 9:11 PM,

0 Comments:
The Author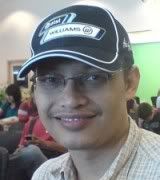 I'm Zaki. I used to be a project, process and chemical engineer. Few years ago I successfully became a Chartered Engineer (IChemE) and Professional Engineer (BEM). I'm now employed as a chemical engineering educator/researcher/consultant. Hope you like reading my blog. I welcome any feedback from you. My email: zaki.yz[alias]gmail.com. TQ!