AUTO TANK GAUGING PROJECT
One of my task as a process engineer is to lead/handle the "Auto Tank Gauging" (ATG) project. It's a project that is very chalenging. I face a lot of obstacles that i have expected and also that i never expected. What is this ATG project? Let me brief about it....

There are a number of oil storage tanks at the plant/factory that i work in. Every morning, the operation department/pump house boys will do the manual dipping / ulleging to measure the oil level inside the tank. From this, operation can know the stock of the oil. The process is so far ok and the oil level readings are fine.

However, in order to constantly monitor and know the oil level and tonnage of oil inside the storage tank, ATG is introduced. It will basically measure the level of oil inside the tank using micro pilot radar / ultrasonic wavelenght and/or using level probe. By using this instrument, simply said, we can see the oil levels inside the pc that is connected to the instrument at the tank. Besides the instrument to detect the level, temperature transmitter is also installed. This is vital to measure the temperature of oil at all time. The temperature will affect the density of oil. By knowing the oil level (height), we can get the volume of oil inside the tank. Having the volume of oil multiplied by the oil density, we can get the tonnage. The tonnage is the most crucial information for the daily oil stock.

The whole process of installing the instrument, laying cable, dealing with suppliers/contractors, commisioning, trouble shooting problems are tough. It really requires a very good coordination. Not many of my chemical engineering knowledge is put on practice while handling this project. It's more towards managing and also learning some SCADA system program, monitoring the tanks and also fine tuning the instrument to get better accuracy.

I experienced a lot of technical problem while handling this project. The lists of problems are so long that i think i cannot write it here now. Perhaps later on. I think it's good to share the experience to others when the time comes. Went the project is totally completed....

For more info or some ATG reading material, click here
posted by Kipas Repair JB @ 9:14 PM,

0 Comments:
The Author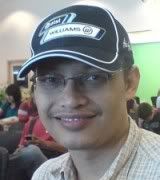 I'm Zaki. I used to be a project, process and chemical engineer. Few years ago I successfully became a Chartered Engineer (IChemE) and Professional Engineer (BEM). I'm now employed as a chemical engineering educator/researcher/consultant. Hope you like reading my blog. I welcome any feedback from you. My email: zaki.yz[alias]gmail.com. TQ!