Global LNG Outlook 2006

For you guys who are interested and perhaps live nearby or have some budget...

Don't miss out on this year's Global LNG Outlook 2006. Online registration closes at midnight on Monday, October 3rd and seats are going fast. This year's Global LNG Outlook 2006 will be held October 4-5, 2006, at the JW Marriott in New Orleans, LA.

Click here to see the current agenda and register.

If you don't have the opportunity to visit us online, onsite registration will open at 8:00 AM at the JW Marriott in New Orleans on Wednesday morning.

I look forward to seeing you at the conference.

Sincerely,

Bill Anderson
Director of Conferences and Events
Hart Energy Publishing
www.hartenergyconferences.com
posted by Kipas Repair JB @ 8:18 PM,

0 Comments:
The Author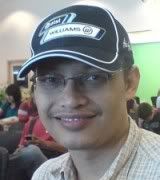 I'm Zaki. I used to be a project, process and chemical engineer. Few years ago I successfully became a Chartered Engineer (IChemE) and Professional Engineer (BEM). I'm now employed as a chemical engineering educator/researcher/consultant. Hope you like reading my blog. I welcome any feedback from you. My email: zaki.yz[alias]gmail.com. TQ!