Boiler Explosion: What When Wrong?

After almost one week since the small boiler explosion occured, I asked my colleague the person incharge of the boiler, what is actually the reason the boiler exploded? I asked him just now, because the complete report from the specialist have been revealed.

Ok, we had some problem of some slight oil contamination inside the boiler water/steam. This is definitely not good. It can create some fluctuations in the steam production and also can cause wet steam which will result in pressure drop. And there are a lot more reasons on the bad effect of oil being inside the boiler.

So, the chemical vendor suggested us to do the Caustic Boiling. It's a method to removed completely any traces of oil inside the boiler. So, we did it. I did mention what chemical we blended and poured inside the boiler. The chemical is supposed to be mixed and boiled inside the boiler at temperature ranging from 60 - 70 oC. The feed water temperature is already about 80oC. Our superior advised to heat up the temperature so that the caustic can be thoroughly mixed with water inside the boiler via physical boiling technique. And guess what, the man-hole is not closed.

As the temperature increased gradually, the water + chemical is now almost boiled, and the water splashed out of the boiler man-hole. The hot water + hot mixture of various caustic
came out of the boiler man-hole and flowed down the external boiler body touching and covering the boiler control panel. Luckily my colleague bravely and swiftly shut off the boiler power/panel despite knowing that he can badly injured himself if the hot caustic fell and splashed on his body!!! Immedietly the electrical and intrument department were called to safe the control panel by drying it to avoid wire/electrical shot later.
posted by Kipas Repair JB @ 10:48 PM,

0 Comments:
The Author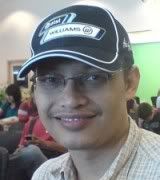 I'm Zaki. I used to be a project, process and chemical engineer. Few years ago I successfully became a Chartered Engineer (IChemE) and Professional Engineer (BEM). I'm now employed as a chemical engineering educator/researcher/consultant. Hope you like reading my blog. I welcome any feedback from you. My email: zaki.yz[alias]gmail.com. TQ!