While processing crude coconut oil to RBDCNO early February recently, there was some problem. The problem which was not realized by me is that the temperature control was slightly too high. Normally we should control the deodorization temperature between 240 - 245oC. However, the temperature when beyond that, about 246-249oC. As a result, in the pack column, where we are supposed to strip coconut fatty acid distillate (CFAD) via vacuum, some of the refined and bleached coconut oil escape together with the CFAD. Later, we realized that our CFAD tonnage is twice higher than what is normally achieved. That is not supposed to happen, but it does reflect that we are losing some of the refined bleached deodorized coconut oil (RBDCNO).
The price of RBDCNO is far expansive than CFAD. Assuming we lost 20 tonnes of RBDCNO which flows and mixed together with CFAD, and assuming the cost difference between RBDCNO and CFAD is about RM1500/MT; therefore 20 tonnes x RM1500/MT = RM20,000.00 lost worth of RBDCNO. Sadly speaking, that happen just because the temperature control was not within the designated range. Coconut oil easily break off at temperature's more than 246oC, unlike palm oil which can withstand temperature up to 270oC.

Morale of the story, some guidance or working instruction was prepared to be followed. During work/plant operation, we should follow the designated process parameters so that we can achieve our target quality and production.

Learn more about coconut oil here
Learn how coconut oil is produced
Labels: Chemical Engineering, Problem, Process Parameters
posted by Kipas Repair JB @ 9:24 PM,

2 Comments:
At Thursday, February 08, 2007, zura said...

Quite a handful to handle my dear. What a way to lose RM20000. Anyway, keep up the good work...love you.

At Thursday, February 08, 2007, said...
The Author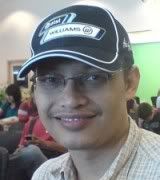 I'm Zaki. I used to be a project, process and chemical engineer. Few years ago I successfully became a Chartered Engineer (IChemE) and Professional Engineer (BEM). I'm now employed as a chemical engineering educator/researcher/consultant. Hope you like reading my blog. I welcome any feedback from you. My email: zaki.yz[alias]gmail.com. TQ!