As an engineer, one of the most important skills necessary is the art of being well informed. We must always be aware of everything that is going on inside our zone and our area of responsibility. We don't want to be the last to know about any occurrence. We don't want to be alerted about any problem by our superior. If that happens, it simply means that we are not carrying our job as an excellent engineer and care the least about our responsibilities.

Sometimes it makes us look better if we pretend to know about the problem in front of our boss when asked. However, the cover up must be good and we better get the answer right. I remembered when I started working few years back, my boss asked me about the status of our shell and tube heat exchanger cleaning in progress (CIP), and I answered him. That time, I pretended to know what he was asking and answered him, hoping that my answer was OK. Unfortunately, he scolded me and said to my face that I don't know what I was talking about. Then he went away, obviously pissed off with me. Since then, I tried to know and learn as fast as possible. I must always be ready and able to answer any questions thrown to me by my boss.
Labels: Learning Curve
posted by Kipas Repair JB @ 12:19 AM,

2 Comments:
At Friday, March 09, 2007, zura said...

You must know every little bit of your plant now, right. No wonder your mobile will ring at 6.30am every morning...just to update the status of your plant by the operators.

At Friday, March 09, 2007, said...
The Author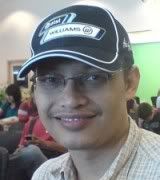 I'm Zaki. I used to be a project, process and chemical engineer. Few years ago I successfully became a Chartered Engineer (IChemE) and Professional Engineer (BEM). I'm now employed as a chemical engineering educator/researcher/consultant. Hope you like reading my blog. I welcome any feedback from you. My email: zaki.yz[alias]gmail.com. TQ!