A friend of mine, Mael, gave this link to me. It's a very interesting article about a new breakthrough regarding superconducting material fabricated by a Canadian-German team which has been made out of a silicon-hydrogen compound and does not require cooling. The implications of the discovery are enormous and could transform the way people live by cutting power usage from everything from refrigeration to cell phones.

Instead of super-cooling the material, as is necessary for conventional superconductors, the new material is instead super-compressed. The researchers claim that the new material could sidestep the cooling requirement, thereby enabling superconducting wires that work at room temperature.

Continue reading the full article here.
Labels: Learning Curve
posted by Kipas Repair JB @ 9:02 PM,

0 Comments:
The Author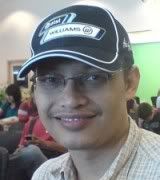 I'm Zaki. I used to be a project, process and chemical engineer. Few years ago I successfully became a Chartered Engineer (IChemE) and Professional Engineer (BEM). I'm now employed as a chemical engineering educator/researcher/consultant. Hope you like reading my blog. I welcome any feedback from you. My email: zaki.yz[alias]gmail.com. TQ!