I hope it is not too late to wish you a happy new year. Happy new year and I wish 2014 will be a successful and fruitful year for all of you.
I have been missing from blogging regularly here recently. It has been due to my hectic daily task and me myself as a family man.
Career wise, towards the end of 2013, I was fully occupied to prepare, defend and correct my Ph.D thesis. Bottom line, the important thing is that, Thank God, I completed my Ph.D. On top of that, I have reported duty as a lecturer on the 1st of July 2013 and I need to fulfill my responsibilities as an academician. Moreover, I am still writing several technical research papers from my Ph.D. Most of them got rejected, so I need to keep improving and sending them to other reputable journals with decent impact factor. Oh, why they keep rejecting my manuscript? I hope 2014 will see more of my manuscript accepted for publication.
Normal human being wise, me and my family just moved to a new, bigger house, 4 days after I defended my Ph.D in the 2 hour VIVA session. Moving to a new house means more time is required to prepare the house for proper decent living. Not to mention transporting clothes and basic kitchen utilities from old house to the new house. Luckily we don't have to shift all the old furniture from the old house to the new house. The new house is furnished with new furniture.
What to expect in 2014?
First of all, I wish and hope that my family and I be granted with excellent health condition. With healthy body, we can work and aim for our goals set for 2014.
I just want to do more and better in 2014 compared to 2013. I want it to be a more fruitful year, more positive year and more successful one. Without any particular order, here are some of my career goals :
Published more in ISI journal - I'm not revealing the numbers. It will be my own secret.
Published more in SCOPUS journal - I'm not revealing the numbers. It will be my own secret.
Secure at least 1 research grant - for me to fund and run my research.
Have some post graduate students - I'm not revealing the numbers. It will be my own secret.
Write useful books - I'm not revealing the numbers. It will be my own secret. You will know soon.
Secure at least 1 consultancy/industrial project.
Attend at least 1 international conference outside my own country.
Participate at least once in research exhibition/contest.
Learn and understand more about thermodynamics modelling using ### software.
I would like to contribute the best that I can to give positive impact (motivate) my students and perhaps others, so that they can become better person, and contribute to their family, society and world.
I also have my own non career related goals. They are divided into personal and family. However, it is not relevant to discuss about them here.
How about you? I would like to read your goals. Why not share them in the comment section or in the
Chemical Engineering World Facebook page
? The more the merrier.
That's me wishing you HAPPY PROSPEROUS 2014... photo credited to Dr. Azizul Azri, snapped during the recent FWRC 2013 competition.
p/s: I began part of the new year with my Samsung Note 2 suddenly not working. Feeling very sad.
posted by Kipas Repair JB @ 12:29 AM,

0 Comments:
The Author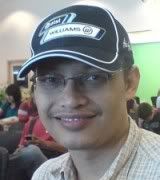 I'm Zaki. I used to be a project, process and chemical engineer. Few years ago I successfully became a Chartered Engineer (IChemE) and Professional Engineer (BEM). I'm now employed as a chemical engineering educator/researcher/consultant. Hope you like reading my blog. I welcome any feedback from you. My email: zaki.yz[alias]gmail.com. TQ!