Cooling Tower is sometimes not that "co0000ol".....

Handling cooling tower when it's ok is such a great feeling. Knowing how to balance between the operational, mechanical and water chemistry is what we want, and when the cooling tower water produces the sort of desired temperature, well, and water quality is ok, everything should be in control.

But what happen when suddenly everything is out of control. When the water quality is worsening, turning brownish or greyish...or whatever colour you can mention it. When all heat transfer in you heat exchanger is no longer operating at its best capacity due to uneffectiveness of the heat transfer - "fauling" or other reasons. When your chiller get choked!!! Suddenly the cooling tower is deteriorating as well. All sort of greyish slimmy thing appeared sticking on the infills. The look of your cooling tower at this point is tremendously horrifying. At this point, the water in your cooling tower basin is producing unwanted blackish foam. The sand filter is sunddenly choked in a very short time. Back washed?!!! how long...no matter how long you back wash, the balckish, greyish colour water keep pouring out from the 3" mild steel pipe of you sand filter. What the hell is this??!!! This is not what i want!!! Oh man....my boss is going to screw me up.

The pump is delivering lower flowrate then usual when you check the flowrate. Oh no....my vacuum system is on its neck!!! Oh no my final oil product is too hot to be stored in the storage tank. Everything is not right at the moment.

Now, who's fault is this? The supervisor? the plant operators? the utility engineer? production exec? or is it me? Who? You keep shouting to youself deep inside. Oh no!!! Is it the water treatment chemical contributing to this disaster? Do some WHY-WHY analysis to outsource its origin....your headace is skyrocketing exponentially suddenly....Some oil might be leaking in some heat exchanger or chiller?? But which one? from which plant? Or no...this is totally a complete combination of disaster....

Suddenly your cooling tower is under stress!!! Settle the problem....How? Go and check all your lines from cooling tower....check all you heat exchangers.....check everything....something is totally penetrating the cooling water line....Do the air test, hydro test....take some sample from all the water inlet and outlet of your heat exchangers....chillers....check which one has the highest concentration of oil....

Damn this hydrocarbon....constantly feeding simoneela filming bacteria sticking on the internal wall and the entire cooling tower infills. And the search for the leaking point continues....and its not easy.....keep on searching.....GOOD LUCK....

Maybe you want to share some cool experience of your cooling tower???
posted by Kipas Repair JB @ 7:43 PM,

0 Comments:
The Author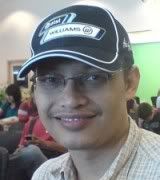 I'm Zaki. I used to be a project, process and chemical engineer. Few years ago I successfully became a Chartered Engineer (IChemE) and Professional Engineer (BEM). I'm now employed as a chemical engineering educator/researcher/consultant. Hope you like reading my blog. I welcome any feedback from you. My email: zaki.yz[alias]gmail.com. TQ!