Boiler Explosion: What When Wrong? Part 2

Later the electrical and instrumentation department worked hard to dry everything at the control panel. The paint on top of the control panel were damaged and ripped off from the effect of hot caustic. The boilerman also worked hard to clean the mess and spillage in the surrounding area. The boiler was left for a while to let it cool down and dry.

Soon after about 2-3 hours, i guessed, instruction was given to start the boiler, at low fire mode, just to slightly heat up the mixture of caustic and water inside the boiler. The time was about 1430 Hrs, and I just arrived at the boiler and watching the boiler people doing their job. That was the time when the boiler exploded and produced such a terrifying sound!!

After investigation, it was found that burner A (it's a twin burner boiler), furnace backfired. The boilerman intended to run the burner at a low fire mode, but instead, without anybody realising, the burner which already contained with natural gas, straight away go to the high fire mode, which provided a big spark. That caused the explosion to occur which made the burner ripped off from the boiler body and created great damage around it. The boiler sequence actually when wrong, because of the short circuit in the control relay base from the earlier hot caustic spillage. When the short circuit occured undetected, the servo motor ignited the high fire mode, by passing the other sequence of low fire etc.

It costs a lot to repair the boiler. However, I solute our maintenance fitters, instrumentation and electrical technician, including boilerman because they work very hard to rectify and repair all the damage. Within a short period of time, about 36 hours, the burner (which was luckily can still be used) was re-attached at the boiler and all pipings, fittings, valves, gear etc was fixed back. We called some boiler expert to help us with the boiler sequence and start-up operation, and that cost some money too. Well, now the boiler is back in operation. And for sure, we'll be extra carefull from this moment to avoid similar or almost similar incident from occuring again.
I would definitely won't forget that moment. And another moral of the story, do not walk unnessarily nearby the boiler!!! Appreciate life...


posted by Kipas Repair JB @ 10:27 PM,

0 Comments:
The Author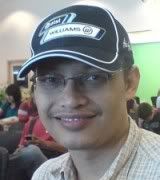 I'm Zaki. I used to be a project, process and chemical engineer. Few years ago I successfully became a Chartered Engineer (IChemE) and Professional Engineer (BEM). I'm now employed as a chemical engineering educator/researcher/consultant. Hope you like reading my blog. I welcome any feedback from you. My email: zaki.yz[alias]gmail.com. TQ!