Before facing the shutdown in 11 days time, I toured my plant another round, just to check all the valves and other parts that need to be replaced. I went from one pump to another pump. There are a lot of pumps. They don't look good. Ugly black dirty oils covered them. I checked the suction and discharge ball valves. Some of the suction valve are 6" and 8" valve and the discharge valve are 4". Well, the sizes of big valves are easier to detect or decide. There's no big problem for me identifying them now. However, that was not the case when I joint the company earlier. It took me some time to get familiar with all types of valves and their brand.

Then I went from one heat exchanger to another heat exchanger. I checked out the drain valves. It's harder for me to estimate the sizes of those drain valves and deciding the brand. There are commonly small varying from 1/2" to 2". In between those sizes, there are also 1.75" 1", 1.5" and others. Deciding the correct size and brand is vital to order and purchase the repair kits/seats. Ordering the wrong spare parts will just be a total waste of money and time and the chance to replace the valve seats which can only be done during plant shutdown.

The darkish, oil layer covering the valves at the pumps and heat exchangers are something that must be improved. It should not be left dirty and uncomfortable for eyes. It should be cleaned and well maintained. I want the valves to be clean and shining like a new piece of metal. Well, We are working on that as well. I'm developing a 5S system (a Japanese Concept of Total Productive Maintenance (TPM)) for maintaining the plant to be a clean healty place and pleasant working environment.
Labels: Heat Exchanger, Plant Shutdown, Problem, Pump, Quality, Valve
posted by Kipas Repair JB @ 11:17 PM,

2 Comments:
At Tuesday, February 13, 2007, Joe Anybody said...

Interesting to see what you are involved in! I like your updates and inside comments. I just read this article on security, firewalls and controllers etc, its a little bit more "security tech" related but it interfaces with Engineering without a doubt especially in critical fields of oil security. http://www.engineerlive.com/homepage/features/17019/improving-cyber-security-at-oil-and-gas-plants.thtml

Have a great week. I posted here because I wasn't sure of your email.
Thanks Mike (joe-anybody)

At Tuesday, February 13, 2007, Kipas Repair JB said...

Mike (joe-anybody),

Thanks very much for your comments. Thanks for the article as well. I read it already and I never imagine that they are up to that extent in protecting the oil and gas industry from the cyber threat. Well. Interesting to know that study, research and work is being done on that issue.
The Author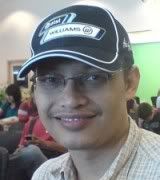 I'm Zaki. I used to be a project, process and chemical engineer. Few years ago I successfully became a Chartered Engineer (IChemE) and Professional Engineer (BEM). I'm now employed as a chemical engineering educator/researcher/consultant. Hope you like reading my blog. I welcome any feedback from you. My email: zaki.yz[alias]gmail.com. TQ!