I bet some of us have the desire to taste and feel the offshore life. For me, it was simply an unforgettable memorable wonderful experience.

If you want to be working in an offshore platform, you should consider working with an "oil company" (Examples: Petronas, Shell, Exxon-Mobile, BP etc.) OR "oil and gas servicing company" (Examples: Weatherford, Schlumberger, Halliburton etc.). Actually, there are many oil and gas servicing companies out there. The ones that I mentioned above is just a few of the international service companies. I previously work for a small local oil and gas servicing company, specializing in specialty chemical optimization for the oil and gas industry. I must say, I was proud and enjoyed working in the offshore platforms.

Before you can go to any offshore platforms, you must participate and pass a training called "Helicopter Under Water Escape Training" (HUET). The training is normally conducted for three days. One of the modules requires you to escape from a simulated helicopter crashing in water (swimming pool) in various ways. Another module trained you on fire fighting and fire escape. All the trainings are really physical and challenging. Therefore, prior to attending the training which cost about (MYR1400.00), you need to undergo a complete medical check-up specially designed for offshore and marine people.

There are a lot more to be shared. To be continued on coming post.
Labels: Oil and Gas
posted by Kipas Repair JB @ 7:58 PM,

0 Comments:
The Author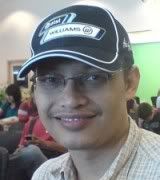 I'm Zaki. I used to be a project, process and chemical engineer. Few years ago I successfully became a Chartered Engineer (IChemE) and Professional Engineer (BEM). I'm now employed as a chemical engineering educator/researcher/consultant. Hope you like reading my blog. I welcome any feedback from you. My email: zaki.yz[alias]gmail.com. TQ!