I received an email from MOSTA Secretariat today about Invitation for ITEX 2007 (18th International Invention Innovation Industrial Deign and Technology Exhibition) Judges.
For your info, ITEX is a very great event where new inventions made by Malaysian's are displayed. Winners from this event will normally represent Malaysia to International Invention which used to be held in Geneva, Switzerland. I have participated in ITEX while doing my Masters in 2000-2002.
Read the following email invitation below.


Dear Friends and Colleagues,
Hello. On behalf of Malaysian Invention and Design Society ( MINDS), I would like to invite qualified and experienced professionals to the ITEX International Judging Panel.
ITEX, the Malaysia's premier international invention exhibition is a platform for research institutions, scientists and inventors to showcase their ideas and inventions to the world. In recognition of their devotions, ITEX doubles up as a competition where various international awards will be given. This year, we are expecting 500 entries, an increased figure year on year. The entries will be categorized into 22 different categories. The date of judging will be on 18 May 2007.
Hence, I cordially extend this invitation to all who can volunteer their time and expertise in making this a success. If you are interested, kindly respond to this email and SMS to 012-3286433 for further details.
Labels: Exhibition, Learning Curve
posted by Kipas Repair JB @ 9:04 PM,

0 Comments:
The Author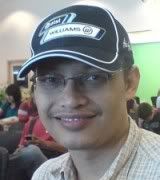 I'm Zaki. I used to be a project, process and chemical engineer. Few years ago I successfully became a Chartered Engineer (IChemE) and Professional Engineer (BEM). I'm now employed as a chemical engineering educator/researcher/consultant. Hope you like reading my blog. I welcome any feedback from you. My email: zaki.yz[alias]gmail.com. TQ!