I did not realize it until today. I checked my blogger dashboard and I saw yesterday's post was #200. I started this blog end July last year and this Chemical Engineering World Blog has been around for about 10 months plus. I'm pleased with the progress of this blog so far. I'm happy sharing my knowledge and experience with my readers. I received many feedbacks, questions, responds from my readers asking various types of questions related to chemical engineering stuff (nothing very technical...). I'm more than happy to answer them, as long as I can answer them.

It took me a lot of effort and time to maintain this blog. I did not mind at all because I love writing and sharing. As a practicing chemical/process engineer, I'm a very busy person (other engineers out there may understand what I mean here). I can only open my blogger account at night, usually after dinner and post whatever I have in mind or whatever information I would like to share. I want to share my experience with chemical engineering students as well as other chemical engineers, so that they can have more information and more exposure on what chemical engineering industry is all about. I cannot provide and cover the entire scope of chemical engineering. However, I'll try my very best to share as much as I can.

I hope all of you gain something good from this blog. Thanks for all your support for me and this blog all this while. I apologized for any bad English grammar in my post (I'm not very good in English, but I'm trying to improve it...). I welcome any comments and suggestions to further improve this blog. I also welcome anybody who want to share his or her experience and knowledge in this blog. I'm going to keep on producing contents for you guys out there. Thanks again.

Enjoyed this post? Subscribe to CHEMICAL ENGINEERING WORLD by email.
Or you can also Subscribe to CHEMICAL ENGINEERING WORLD by RSS.
Labels: Chemical Engineer, Chemical Engineering, Learning Curve
posted by Kipas Repair JB @ 7:51 AM,

5 Comments:
The Author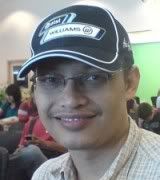 I'm Zaki. I used to be a project, process and chemical engineer. Few years ago I successfully became a Chartered Engineer (IChemE) and Professional Engineer (BEM). I'm now employed as a chemical engineering educator/researcher/consultant. Hope you like reading my blog. I welcome any feedback from you. My email: zaki.yz[alias]gmail.com. TQ!