A bunch of chemical engineering students gathered in the Wu Conference Center at University of New Brunswick Fredericton, Canada to show case their projects in the Innovations and Opportunities Atlantic Canada Engineering Conference. the project carried out by those students were very interesting. One of the projects which was converting coal to fuel was pretty interesting. I know the basics of this technology while doing my masters few years ago (I did converting gas to liquid technology before). The coal to fuel was first develop by SASOL in South Africa. For them, they managed to create a process which is commercially viable. Now, the students have presented their ideas to establish the coal to liquid plant in Canada and it will be truly rewarding if their ideas will be executed. Continue reading the full news below:

FREDERICTON - From producing synthetic oil from oil shale to making diesel from coal, energy production projects dominated the Innovations and Opportunities Atlantic Canada engineering conference.
More than 130 university and high school students, faculty, government officials and industry representatives packed the Wu Conference Centre at the University of New Brunswick
Fredericton recently to hear about nine capital projects designed to bring major investments and jobs to the province.
Altogether the student projects, if they were all built, would represent more than $6 billion in capital investments and would create more than 1,700 jobs.
Among the most intriguing ideas presented at the one-day event was a plant designed to turn coal from Minto into ultra-low sulphur diesel.
"Our economic analysis shows this plant is extremely profitable," said Blair Kelly, one of the three students who designed the $1.1-billion facility.
The plant, designed by Kelly, Stephanie Guay and Rebecca Appleton would produce 10,000 barrels of diesel fuel each day from 1,400 tonnes of coal. If built, it would be the first coal-to-liquid fuels plant in Canada.
The technology was first developed during the Second World War and is in use in South Africa as well as China.
Continue reading the full article HERE.
Photos: Rebecca Appleton, Blair Kelly and Stephane Guay, chemical engineering students at the University of New Brunswick, have designed a $1.1-billion coal-to-liquid fuels plant which could be built in Minto. The plant would produce 10,000 barrels per day of ultra-low sulphur diesel.
Labels: Chemical Plant, Equipments, Exhibition, Learning Curve, Research
posted by Kipas Repair JB @ 9:17 PM,

0 Comments:
The Author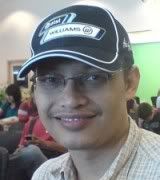 I'm Zaki. I used to be a project, process and chemical engineer. Few years ago I successfully became a Chartered Engineer (IChemE) and Professional Engineer (BEM). I'm now employed as a chemical engineering educator/researcher/consultant. Hope you like reading my blog. I welcome any feedback from you. My email: zaki.yz[alias]gmail.com. TQ!