My research group, Chemical Reaction Engineering Group (CREG) will be participating in Malaysia Technology Expo 2009 (MTE 2009) after winning a silver medal in the last year's Industrial Arts and Science Exhibition 2008 (INATEX 2008) in our project entitled "Bio-Oil from pyrolysis of pre-treated empty palm fruit bunch (EPFB)". MTE 2009 will be held in Putra World Trade Center (PWTC), Kuala Lumpur from 19-21 February 2009.

As part of the research group, for the MTE 2009 preparation, I was assigned to prepare the EPFB to Bio-Oil plant model and also to ensure our short video is well creatively prepared. During the recent INATEX 2008, we have prepared a model but we it's not really attractive and not strong at all. Hence, for this time we have hired professional service to heelp us out with the model creation. With some help from the research officers and master student, I have sketched a 3 storey plant model lay out. It's really exciting to be able to design, build and construct the plant. However, I know building a real plant is not as easy as creating a plant model.

After 2 weeks working on the model, finally the plant is completed. The plant produced 840kg/day of bio-oil from EPFB. I have adjusted the costing for the production of bio-oil and it seems to be interesting. However, I'm sorry that we can't reveal the costing here.

Be the best chemical engineer you could be. Learn something about chemical engineering that's not inside your textbook. Subscribe to the content of this blog.



Labels: Chemical Engineer, Chemical Engineering, Energy, Environmental, Exhibition
posted by Kipas Repair JB @ 8:09 PM,

2 Comments:
At Wednesday, February 18, 2009, azie said...

from 19-21 february?

well i guess that's why my lecturers are canceling our class..they are going for the expo.

gud luck then with ur exhibition =)

At Wednesday, February 18, 2009, Kipas Repair JB said...

Well, I'm not sure on that. Lecturers have many other commitments, not just going to exhibitions, but more than that. If he or she is not going to MTE, maybe it's because of other urgent duties.

By the way, I'm not going to the exhibition. Our research group are represented by the head of research, Prof. NASA and also 3 research officers.
The Author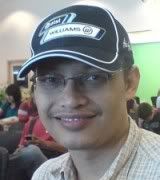 I'm Zaki. I used to be a project, process and chemical engineer. Few years ago I successfully became a Chartered Engineer (IChemE) and Professional Engineer (BEM). I'm now employed as a chemical engineering educator/researcher/consultant. Hope you like reading my blog. I welcome any feedback from you. My email: zaki.yz[alias]gmail.com. TQ!