The 3rd Malaysian Technical Universities Conference and Exhibition on Engineering and Technology (MUCEET 2009) is coming our way. This year UMP will be the hosting venue, and will be held in Kuantan, Pahang from the 20th to 22nd June 2009. MUCEET 2009 is organized by the Malaysian Technical Universities Network (MTUN) comprising of UniMAP, UTHM, UTeM and UMP.

This conference yields opportunity for all staff from four technical universities in Malaysia in building network towards producing quality researches. It is intended to share research outcomes in four major themes namely Manufacturing, Engineering and Science, Emerging Technologies, Social Science and Management. It is hope that MUCEET 2009 will open up avenues for bringing together experienced and young researchers in a stimulating exchange. It provides a strong platform for young entrants to interact with professional experts and practitioners from various fields.

Calling For Papers
You are invited to submit an abstract in any of the following tracks. All accepted papers will be published in the conference proceedings/book.

THEMES
Manufacturing
-Product Design
-Handling System
-Manufacturing Technology
-Manufacturing Support System

Science & Engineering
-Biology, Chemistry, Physics
-ICT, Electrical & Electronic Engineering
-Construction & Transportation, Civil Engineering
-Mechanical Engineering, Chemical Engineering, etc.

Emerging Technology
- Biotechnology
-Environment
-Nanotechnology
-Advanced Materials

Social Science & Management
-Social Science, Technical & Vocational Education
-Knowledge Management, Research Management
-Technology Management, etc.


Please send submissions by e-mail to 'airin@ump.edu.my" and provide the following information latest by 20 Mac 2009:

-Name, title and affiliation for each author/presenter
-Biography of presenter/s (50 words)
-Title of paper
-Abstract (approximately 200 - 250 words)
-Presentation equipment requirements.

Guidelines for Submitting Abstracts

Important Dates
-March 20, 2009 Submission of Abstract or Full Paper
-April 03, 2009 Notification of acceptance
-April 20, 2009 Submission of Full Papers
-May 20, 2009 Papers ready for publication
-June 20 -22, 2009 MUCEET 2009

-Papers will be evaluated for originality, significance, clarity, impact, and soundness. Each paper will be refereed by two experts in the field who are independent of the conference program committee.
-The best paper in each of these four themes will be recognized through an award. The reviewers will select the winning papers.

Be the best chemical engineer you could be. Learn something about chemical engineering that's not inside your textbook. Subscribe to the content of this blog.

Labels: Conference, Learning Curve
posted by Kipas Repair JB @ 8:01 PM,

0 Comments:
The Author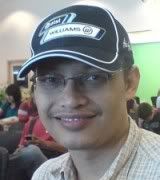 I'm Zaki. I used to be a project, process and chemical engineer. Few years ago I successfully became a Chartered Engineer (IChemE) and Professional Engineer (BEM). I'm now employed as a chemical engineering educator/researcher/consultant. Hope you like reading my blog. I welcome any feedback from you. My email: zaki.yz[alias]gmail.com. TQ!