For those of you who have not yet been in a chemical plant, I would like to share this very impressive animation videos that I found today in youtube. Credit to Cadmatic3D, the creator and submitter of the videos. For your information, the video shows (I mean simulate) a walk around in the plant.

In the first video, among the things that you'll notice are lots of piping, unconnected pipe flanges (not sure why it is not connected with bolts and nuts), many centrifugal pumps, air lines for valves and instrumentation, butterfly valves, staircases, small drain on the floor, small size plate heat exchanger, level sensor on tank, tanks and others. It's really a good experience simulating a walk around in the plant.


In the second video, it was almost like the first one. It displays I beam, more storage tanks, steam line, more centrifugal pumps (seems like floating) and others.
The videos were just uploaded yesterday and I found myself to be the second person to watch the first video and the 3rd person to watch the second video. Off course, the experience of really walking inside a plant is different but at least this should enable chemical engineering students to visualize what the feel to be walking in the plant.
Note: When you really walk in the plant, you'll listen to the noise, feel the heat from the heat exchanger, distillation column or boiler, see droplets of oil on the floor indicating there's a leakage above you and others. The floor might be slippery and you must be very careful. It's really a different experience. Imagine walking in a an offshore refinery... It was really awesome. I still remember the experiences when I work and visited several Petronas offshore platforms few years ago. Cool stuff...
Are you interested in designing such animation or plant? Alongside with the above video, I found another one which actually shows how to easily design, plan the plant layout and finally create a simulated version of the plant. All you have to do is to use the CADMATIC 3D Plant Design Software. It's fast, easy and simple. Created by engineers for engineers, it's proven to be fast solution for engineers to create and design plant in the shortest time possible. Also, imagine final year students using this powerful software to design their plants. Would that be super interesting? Check out the following video to learn the power of using Cadmatic 3D software...
For further reference or to learn more about this software, please visit
www.cadmatic.com
.
...........................................................................................................................................................
Recommended: Free Technical / Engineering Magazine

.
Join Chemical Engineer Rocks FACEBOOK Group...

Apply

Chemical Engineering Jobs online

- Updated daily... :)
Labels: Chemical Engineer, Chemical Engineering, Chemical Plant, Equipments, Experience, Learning Curve, Pump
posted by Kipas Repair JB @ 8:32 PM,

0 Comments:
The Author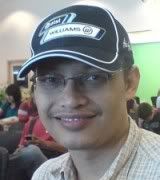 I'm Zaki. I used to be a project, process and chemical engineer. Few years ago I successfully became a Chartered Engineer (IChemE) and Professional Engineer (BEM). I'm now employed as a chemical engineering educator/researcher/consultant. Hope you like reading my blog. I welcome any feedback from you. My email: zaki.yz[alias]gmail.com. TQ!