There's undeniably a wide range of fields and discipline under chemical engineering. There are physical refining, research and development, plant processing, academician, safety and health, environmental and plenty others. All this expert area surely requires specific equipments, tools and gadget in order to run or operate the process.

One imperative equipment that chemical engineers working in the environmental fields and/or sales engineer require due to massive traveling is GPS which stands for Global Positioning System. GPS is space-based global navigation satellite system that provides reliable positioning, navigation, and timing services to worldwide users on a continuous basis in all weather, day and night, anywhere on or near the Earth. It is with no doubt a very important equipment to locate or mark specific locations.


Personally, I also used a GPS to travel to certain unknown destination and also to marked important points of location. We (me and my wife) own 2 GPS presently, one is via her cell phone and the other one is a dedicated tough Garmin GPS for mountain hikers. For some, GPS might be an alien for you but you'll needed it very much, depending on your job scope. It will safe you a lot of hassle if you are traveling. To get a set of GPS, you can easily and efficiently browse at shopwiki. They provide massive range of GPS with various features and models. You can choose the GPS based on the types (hand held, car, cellphone, laptop, watch, nautical) or outdoor type (Garmin hand held personal navigator or Uniden 28 Mile GMRS Radio 2 Pack with Charging Cradle and Battery Packs) or special touch hand held GPS system.

In extreme conditions, when the basic seems simply inadequate, you can select for more advance GPS such as HP iPAQ rx5900 or Garmin Edge 350. Those two are example of very excellent, high end and advance GPS system. For example, GArmin Edge 350, not only can do what normal GPS can do but also amazingly can tracks heart rate, speed and other exercise features. This is a good choice for engineers to keep track of their health while working diligently.

In conclusion, I strongly think that GPS is a very excellent tool to ease our job but it also depends on our job nature. Those who do not frequently travel or have projects scattered in various location may not think this is a tool they need to own. It's up to you. For me, it has proven to be cost effective in the aspect of time saving and working efficiently.
Labels: Chemical Engineer, Chemical Engineering, Environmental, Equipments, Learning Curve, Technology
posted by Kipas Repair JB @ 8:08 AM,

0 Comments:
The Author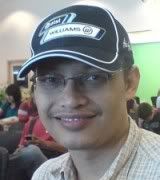 I'm Zaki. I used to be a project, process and chemical engineer. Few years ago I successfully became a Chartered Engineer (IChemE) and Professional Engineer (BEM). I'm now employed as a chemical engineering educator/researcher/consultant. Hope you like reading my blog. I welcome any feedback from you. My email: zaki.yz[alias]gmail.com. TQ!