Mid Chapter of A Chemical Engineering Student

One of my proudest moment was when i successfully get myself a place to study chemical engineering in UK. I can remember how proud my parents were, especially my father. I'm glad to make them happy. The day came and all of us, the JPA (government) sponsored student gathered at the Kuala Lumpur International Airport (KLIA) that evening. All my family members were at the airport to wish goodbye and good luck. We (myself and my colleague) were very excited at this moment. We were really looking forward to enjoy the journey. Some of us have never been on a plane. So, these category of people were more excited + a little bit suspen!!!



Bradford city Hall

The journey took about +/-12 hours by the MAS 747-400, and we really enjoyed the journey. We had some sleep and ate some nice food served to us. We arrived at Heatrow Airport on the following morning. The temperature was very cool (autumn) and the wind was blowing strong (maybe 30 kPa + +....hi hi...or 90 miles/hr). And yes we came prepared with all these winter clothing. We transited at London and took a Focker-28 to Leeds-Bradford airport. It was a smaller plane with a pair of engine. I don't know what type of engine...Definitely not a Rolls Royce engine.....The wind turbulence was very fierce that time. The plane seems to be drifting up and down, left to right to left again....some of us lost the appetite to eat the delicious croissant and orange juice served to us. But most importantly, the aircraft landed safely and we went out of the fiuslaj in one piece...breathing fresh midland air....and it's a very cold one...


Bradford Interchange

Some mature student (post graduate) have waited for our arrival and they picked us to their home. They tell us all the basic information and what we should know about the life in Bradford: how to eat, what to eat, where to buy food, where to shop, how to adopt, the bank location, the post office location, and other vital informations that we really need in this new place....I stayed in a post graduate's house whom i called Abang Hilmi, with another 2 friends. It was just a temporary home before we can get a house to rent. After we managed to get a decent small 3 storey terrace house + a basement in the Bradford city (12, Noble Street, BD7 3BD), we moved in. It was a very cold house without any central heating....and it cost us 250 pounds per month. That's very cheap for a house...and a freezing one. The four of us occupied the house and we split the 250 by 4. The land lord, a Pakistani British citizen live next to the property and never misses to ask for the rent on the 1st of everymonth!!! .....Next....starting a new chapter as a foreign student.......
posted by Kipas Repair JB @ 10:37 PM,

0 Comments:
The Author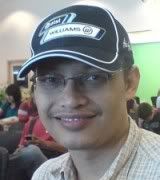 I'm Zaki. I used to be a project, process and chemical engineer. Few years ago I successfully became a Chartered Engineer (IChemE) and Professional Engineer (BEM). I'm now employed as a chemical engineering educator/researcher/consultant. Hope you like reading my blog. I welcome any feedback from you. My email: zaki.yz[alias]gmail.com. TQ!