Turbine Regenerative Pump

What type of pump may be appropriate for a liquid near saturation, a low flow rate, and very limited NPSHa (net positive suction head available)?

This application is nearly perfect for a turbine regenerative type of pump. Factors that immediately identify your application and pump type are: the small flowrate, low NPSHa, and high temperature. The regenerative turbine was specifically developed for these conditions and one more: high discharge pressures. The high discharge pressure may not be necessary, but the regenerative turbine can give you a NPSHr of 0.5 feet with ease. They are particularly suited to saturated boiler feed water and your application is similar, albeit not in pressue. You can visit the site below to learn more about these types of pumps.

Adopted from Cheresources Newsletter
Source: Art Montemayor
posted by Kipas Repair JB @ 8:28 PM,

1 Comments:
At Monday, October 23, 2006, sink sink socks said...

This wish now endeavors to make its fetisch bekleidung way to consciousness onthe normal path of the mental processes through the foreconscious, towhich indeed it belongs through one of its constituent elements.
The Author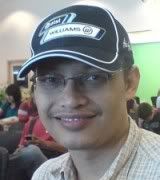 I'm Zaki. I used to be a project, process and chemical engineer. Few years ago I successfully became a Chartered Engineer (IChemE) and Professional Engineer (BEM). I'm now employed as a chemical engineering educator/researcher/consultant. Hope you like reading my blog. I welcome any feedback from you. My email: zaki.yz[alias]gmail.com. TQ!