Do you know that there is an organization called NACE? What is NACE?

Corrosion problem in the chemical as well as oil and gas industry is very critical. That's why "National Association of Corrosion Engineers" (NACE) was created.

NACE International mission is to protect people, assets, and the environment from the effect of corrosion globally. Their members work in corporations, educational institutions, research facilities, and the federal government. Whether you are a scientist, engineer, contractor, student or simply someone who possesses a real commitment to the advancement of corrosion control, you are invited to become part of this dynamic and influential organization. Personally, I have used NACE standard to measure corrosion rate in the pipelines in my present work and in my previous oil and gas job.

Next year, NACE International returns to New Orleans in 2008 and invites your participation in the NACE International Corrosion 2008 Conference and Expo . Be a part of a world-renowned collection of technical presentations on the most current and innovative corrosion technology for industry professionals.
Labels: Chemical Engineering, Exhibition, Learning Curve, Oil and Gas
posted by Kipas Repair JB @ 11:57 PM,

2 Comments:
At Friday, March 07, 2008, said...

Hi,
This may not be directly helpful or relevant to the current topic ..... anyway let me add some point to it..
To maintain your product, corrosion free, you can avail the service from below mentioned companies
Corrosion Protection
Corrosion Prevention
Corrosion Resistance
Corrosion Inhibitor
To my knowledge, they are the leading anti-corrosion service provider in the world

At Wednesday, June 25, 2008, said...
The Author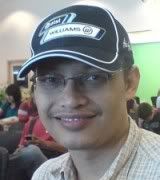 I'm Zaki. I used to be a project, process and chemical engineer. Few years ago I successfully became a Chartered Engineer (IChemE) and Professional Engineer (BEM). I'm now employed as a chemical engineering educator/researcher/consultant. Hope you like reading my blog. I welcome any feedback from you. My email: zaki.yz[alias]gmail.com. TQ!