After graduating almost 9 years ago, I have been working in the research and development area, oil and gas industry, and oil and fats sector. That's all together 3 different fields. To be honest, I'm glad I went through all those fields. It made me taste a little bit something from those areas.

I never plan it to be like that. I believed the God has arrange all of these for me. The God wants me to be more diversified, more all rounder and know more technical details from various industries. Now that I'm going to turn 32, I think it's already time for me to decide on which area to dwell. I need to establish myself in an area where I can grow together with it and become the expert in it.

My wife is a chemical engineer as well and after completing her degree, she straight away joint a local university as an academic staff. Hey, there's nothing wrong with that. That's good. She continued her Masters degree in Chemical Engineering after a year becoming a tutor. After getting her masters, she became a lecturer, teaching Unit Operation and Mass Transport subject. After a while she was on study leave because she is now doing her pH.D.

As you probably already know, my journey differs from her. If you have been following this blog from the beginning, I have shared my R & D experiences, my oil and gas journey - going on shore and offshore - traveling in and outside the country, my oil and fats adventure - taking care of a 3000 MT/D capacity physical refining plant etc.

Well, there are pro and cons on my part and that is exactly what I want to share. Check on the following points:

Pro

1. I tasted and experienced a lot. That means I know generally more about those industries.

2. I have been working in several offshore platforms which I believe not a lot of engineers have done that. Traveling offshore is very exciting and I always look forward for it. The allowances are great and if you are the kind of person who want real physical challenge and want to make big bucks, by all means, try and apply a job for an oil or service company.

3. I experienced working as a service person and I also work as a end product person. Those are totally different. You might want to know about this before you work. In the 2nd point above, I mentioned about applying a job from an oil or service company. That will reflect your working lifestyle.

If you work in a service company, you'll be more flexible and probably do a lot of traveling. You are doing services to your customers. Hence, there'll be a lot of traveling here and there. I made a really crazy trip few years back from Johor Bahru to Jakarta to Johor Bahru in one single day. I was in Johor Bahru in the morning, went to Jakarta, met up with my principle and at 7 pm I was already back in JB having some BicMac with my wife. It was a really tiring journey.

If you work in an oil company or end product company, you'll be normally stationed just there. You have to take care of a plant, or project or maintenance etc. That place is going to be your world. You'll be there from morning until your working time ended. Most of the time, you have to work additional hours because there are simply tonnes of jobs.


Cons

1. I could not focus to one area because I switched courses 3 times in a space of 9 years. However within that small space of time, I tried and worked hard to become a good employee each and every time.

2. Jumping here and there delayed myself to climb the corporate leader. Some of my friends have become senior engineer or manager. However, I'm still a normal process engineer. That's fine. It's OK. I'm still having a good job and decent pay.

I'll ad up the list when I can think of some more...


What I wish...

If I have the opportunity to choose which industrial career based on my present knowledge and information, I think would like to work in either 2 areas:

i. A Chemical Engineer in a service company in the Oil and Gas industry. Example of companies - Halliburton, Schlumberger, MECAS, Clear Water, Weatherford etc.

ii. A Technical Engineer for a service/product company selling heat exchanger. To be exact, I would like to work for Alfa Laval.

However, I would also like to be in the academic line and involve in research and development. But, I'm not sure yet about that. Let's just see how my career is going to be...

What about you? Are you working your dream job?
Labels: Chemical Engineer, Chemical Engineering, Jobs
posted by Kipas Repair JB @ 12:39 AM,

2 Comments:
At Friday, April 25, 2008, said...

Good. Everybody have such these feelings. all are trying to get a job what they actually like. But very few only making that possible.

This engineer facing his life with well satisfaction eventhough he never got a dream job. I like this sharing.

Thank You for a good sharing.
Renga.

At Monday, August 11, 2008, said...

hye, I am an oilfield engineer from one of local universities whom uses Malay as major language, Actually I am have half agree with this statement from this post. The half is locals are really bad at commucating but in the other hands, but they are really great as a worker. If you really interested how good our students, plz attend their seminar such Malaysian Gas Association Prestige Program. There you can see the student from local universities rocks. Local companies has to realiased that universities are going towards better education hence they need to updated with software not only using only excel to do calculations. Software like that has major problems with deviation and usually the equation in raw calculation needs to be corrected and this is where new process software caming in.

Regards

azizi_98001@hotmail.com
The Author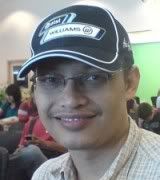 I'm Zaki. I used to be a project, process and chemical engineer. Few years ago I successfully became a Chartered Engineer (IChemE) and Professional Engineer (BEM). I'm now employed as a chemical engineering educator/researcher/consultant. Hope you like reading my blog. I welcome any feedback from you. My email: zaki.yz[alias]gmail.com. TQ!