As a process engineer working in a private company previously, I'm very sensitive to energy saving and cost reduction.

I used to manage a big physical refining plant and I'm answerable to the production cost. Management will ask me why the natural gas cost is high? Why the electricity cost is high? Why the water and steam cost is high? Why the processing aid cost is high? Why the salary is so high compared to last 3 months? Why the maintenance cost is double that of last month? Why the average production capacity is 10% lesser compared to last year's? Those are the type of
questions that have been always been bombarded to me and the others who manages a plant.

Hence, I would tell my supervisors and operators to be more alert on the energy issue. I provided them with the understanding of high production cost and the direct relation with energy saving. High production cost will make the company losses money. That will lead to lower profit, lower salary adjustment and lower annual bonus or incentives. Those are among the explanations that we can provide to them.

We can also explain about the green energy and also the global warming crisis. However,
sometimes, being an operator, their academic back ground is not high. Hence, by explaining global warming and green energy would not get them excited. They will become blur and grin while you are explaining to them about those global issues. Hence, by associating themselves with the company performances, salary and bonus, it can make them think and react accordingly.

As for me, the idea of saving energy and utilities are well permanently stored in my mental box. The practice is not just at work but also applied at home. At home, we are the one who pay the bills and we tend to be more discipline at home. We know, we realize the importance of utility savings. An example is using an energy saving bulb (5 kW) for our lamps instead of a normal bulb (40kW) and also boiling water using gas instead of electricity (I do that). My electricity bill is always below RM50 per month. You need to analyze your bills as well. Check on how many kW you are using. Check on how much m3 of water you consuming.

Oh yes, by choosing a well ventilated house, I don't have to use the air condition. I have lived in a
house where the ventilation is very poor and I hated living in that house. It was so hot and we need to use the aircond a lot. Using a simple 3 bladed fan is sufficient and breezing. After 3/4 months, we cleaned the fan blades to remove the dirt sticking on it. This will improve the efficiency of the fan and the fan ampere won't be too high - We save power...

But, what about those who work in a place where they do not really concern about energy? I wish to discuss about this in later entry. In the mean time, any ideas? Anybody want to share how they save energy?

-----------------------------------------------------------------------
Convert You Car To Burn Water + Petrol = Double Your Mileage!
High Conversion, Few Refunds, Due To Huge Demand: Soaring Gas Prices Compel People To Save Gas!!! Popular D.i.y Watercar: Run Your Car Partially On Water, Reduce Emissions/Global Warming! Practical Free Energy Based On 1000s Of Real Cars Worldwide!!!
Labels: Energy, Environmental, Learning Curve
posted by Kipas Repair JB @ 12:40 PM,

0 Comments:
The Author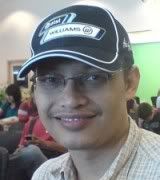 I'm Zaki. I used to be a project, process and chemical engineer. Few years ago I successfully became a Chartered Engineer (IChemE) and Professional Engineer (BEM). I'm now employed as a chemical engineering educator/researcher/consultant. Hope you like reading my blog. I welcome any feedback from you. My email: zaki.yz[alias]gmail.com. TQ!