Few weeks ago, our specialty chemical vendor from Nalco came and performed his routine water testing in one of the plant in my factory. He was testing the hot water tank system and found out that the water pH was below 6. The pH is supposed to be control at about 8. Other chemical parameters seems to ok and within normal range. So, he added some caustic solution into the hot water system to increase the pH. He also advised us to dispose half of the water inside the system and introduce fresh water. He gave me a copy of the report and told me the situation.

Later, the same day, a supervisor from the above mentioned plant was instructed to flush/blowdown the water in the hot water system. As soon as he opened the final valve, a red hot colour water came out from the system. We were surprised with the colour of the water! My bos who saw the water colour immedietly thought a severe corrosion is taking place inside the system. I went to the site at observed, took some photos and took some sample as well.

From my previous experince, i know that, if corrosion really takes place, the iron which is heavier will sediment on the bottom of the sample bottle. I waited for one day and the next day, i found out that the water is still in the same state and colour. No changes can be observed from the colour. This is a very homogeneous solution and i believed that this is not corrosion. It was something else.

So, I waited for the test result which the chemical vendor carried out. Later, the following day, he emailed me the report and the result showed that iron is undetected!!! So, first conclusion ---> no corrosion is taking place.
Later we realised that the red colour water is actually a product of a chemical reaction inside the hot water system. When the chemical vendor poured in some caustic solution to increase the pH, the solution actually reacted with some oil inside it. We are still not sure which type of oil (Lab test indication). But, this shows that one or more heat exchanger in the system is leaking.
So, second conclusion ---> One or more heat exchanger is leaking and therefore, the plant personel must detect which heat exchanger is leaking and isolate them.
posted by Kipas Repair JB @ 8:29 PM,

0 Comments:
The Author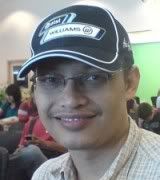 I'm Zaki. I used to be a project, process and chemical engineer. Few years ago I successfully became a Chartered Engineer (IChemE) and Professional Engineer (BEM). I'm now employed as a chemical engineering educator/researcher/consultant. Hope you like reading my blog. I welcome any feedback from you. My email: zaki.yz[alias]gmail.com. TQ!