Just now, I was informed by my supervisor that the clean cooling tower water has turned to a milky coffee colour! Oh No....this could not be happening again....I went to the cooling tower and check out the water. It is true. The water colour has changed from a clean colourless water to a milky coffee colour. This is going to be a very bad nightmare for me. The last time this cooling tower had a problem (oil leak into it), it took about 6 months for it to recover and we had to carry out a major service on it. I hope this time, it is not some unwanted oil leaking from the heat exchangers from 4 different plants. Well, at least no slime is observed yet. Or, perhaps, the slime has not yet grown. I need to inspect it again tomorrow morning. As for today, the best thing we can do was removing some scum floating on top of the cooling water surface, did some blowdown and some sand filter backwash. Hopefully it can dilute anything that contaminate my cooling tower water.
Labels: Cooling Tower
posted by Kipas Repair JB @ 9:12 PM,

0 Comments:
The Author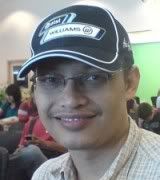 I'm Zaki. I used to be a project, process and chemical engineer. Few years ago I successfully became a Chartered Engineer (IChemE) and Professional Engineer (BEM). I'm now employed as a chemical engineering educator/researcher/consultant. Hope you like reading my blog. I welcome any feedback from you. My email: zaki.yz[alias]gmail.com. TQ!