Curious Cat Science & Engineering Blog is a very interesting and informative blog containing a wide range of science and engineering stuff. The blog is well and neatly maintained by Mr John Hunter. If you are looking for extra information knowledge and unthinkable news, you can always get it from Curious Cat Science & Engineering Blog. John Hunter is also well verse in management improvement, engineering and economics. He is also good in design of experiment (DOE) stuff. Earlier he gave me some insight and input with regard of DOE:

Here are some good sites with more information on design of experiments and articles on design of experiments including many from the Center of Quality and Productivity Improvement at the University of Wisconsin that was founded by William Hunter, my father and George Box (leaders in the field, in my biased opinion, but others opinions as well).


Labels: Learning Curve, Quality
posted by Kipas Repair JB @ 12:19 PM,

2 Comments:
At Monday, September 03, 2007, said...

Thank you for the nice post. I enjoy reading your posts. Thank you for the
time and effort you spend for keeping blog lively and attractive and that
makes it worth visiting and re-visiting.

At Monday, September 03, 2007, Kipas Repair JB said...
The Author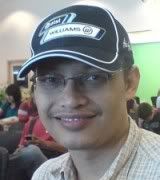 I'm Zaki. I used to be a project, process and chemical engineer. Few years ago I successfully became a Chartered Engineer (IChemE) and Professional Engineer (BEM). I'm now employed as a chemical engineering educator/researcher/consultant. Hope you like reading my blog. I welcome any feedback from you. My email: zaki.yz[alias]gmail.com. TQ!