I've been collecting the data for the heat exchangers in my plant. There 7 plate heat exchangers (PHE) that i closely monitor. There are several more that I do not really focus in. Among the data collected are: inlet & outlet temperatures, flowrate, surface area, and others....My aim is to calculate the "Overall Heat Transfer Coefficient (U-Value)" so that I can know which PHE has become heat transfer ineffcient. However, after a series of data, I observed that sometimes the PHE have high U-value and sometimes the same PHE have lower U-value. And I make a conclusion for myself that the U-value in my case is actually strongly influenced by the flowrate. In my plant, sometimes we have to increase or lower the flowrate due to some quality control issue. Of course, for me the effect of Log Mean Temperature Difference (LMTD) is not as great as the flowrate effect.

I think some other articles that can relate to my experience will be the one published by Cheresources.com in their january 2007 issue.

I hope some of my profesional colleagues who work directly with the theoretical and practical of heat exchanger can comment on this...
Labels: Heat Exchanger
posted by Kipas Repair JB @ 3:43 PM,

5 Comments:
The Author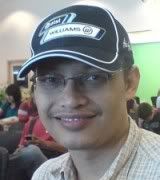 I'm Zaki. I used to be a project, process and chemical engineer. Few years ago I successfully became a Chartered Engineer (IChemE) and Professional Engineer (BEM). I'm now employed as a chemical engineering educator/researcher/consultant. Hope you like reading my blog. I welcome any feedback from you. My email: zaki.yz[alias]gmail.com. TQ!