It's still raining today. The rain keeps on pouring, heavily. The state/country is currently hit with one of the worse flood in history. Luckily my house and the surrounding area is not flooding. However, it gave a significant impact to my work. Not just when I go or return back from work, water clogging (minor flood), very bad traffic jammed, a lots of hole on the road, some damage to vehicles etc; it also force us (my company) to be prepared for a plant shutdown, simply becausethe crude palm oil (CPO) supply shortage.

We never expected such scenario to occur. Due to heavy rain, a lot of palm oil plantations was badly affected by the flood. Hundreds of workers associated to palm oil harvesting and milling could not go to work. CPO Tanker could not reach us because the road structure collapsed. We have a serius shortage of CPO. Most of our CPO tanks in the factory are empty. If the CPO run out, we have to stop the plant!!! We cannot blindly and easily stop the plant just like that. Therefore, we have to take the opportunity to perform any maintenance work. That's why now I'm quite busy alongside with my colleague preparing for the shutdown. I also have to carry the umbrella everywhere...

Not just that, the CPO price has already escalated to nearly about RM2000 per metric tonne (that's about US$570/tonne). I could not recall the price rised up that high in the past.

For more pictures showing the floods, you can click at my personal blog here.
posted by Kipas Repair JB @ 11:06 PM,

0 Comments:
The Author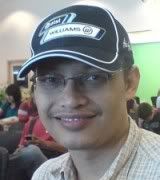 I'm Zaki. I used to be a project, process and chemical engineer. Few years ago I successfully became a Chartered Engineer (IChemE) and Professional Engineer (BEM). I'm now employed as a chemical engineering educator/researcher/consultant. Hope you like reading my blog. I welcome any feedback from you. My email: zaki.yz[alias]gmail.com. TQ!