Plant 5S


Monday, February 12, 2007
I have my own plans and targets for my plant. I want to make the plant a better place to work. I want to improve the system and way of work. I want to beautify the 9 storey physical refining plant. I want all the pumps, heat exchangers, insulation, vessels, cable tray, etc to look nice and well maintained. I want the paint on walls to be fresh and free from dirt. I want the plant to be totally clean and shining. I want the forklift to be in excellent tip top condition with new paint. I want to see the cooling towers, bleaching earth store and spent earth area to be in superb condition. I'm working on all of that with the help of all the plant supervisors and operators. These are what we call 5S. See below for the definition and description of 5S (A Japanese Concept of Total Productive Maintenance). I hope to achieve them within the second quarter this year.

5S is a reference to five Japanese words that describe standardized cleanup:
Seiri (整理)

: tidiness, organization. Refers to the practice of sorting through all the tools, materials, etc., in the work area and keeping only essential items. Everything else is stored or discarded. This leads to fewer hazards and less clutter to interfere with productive work.

Seiton (整頓)

: orderliness. Focuses on the need for an orderly workplace. Tools, equipment, and materials must be systematically arranged for the easiest and most efficient access. There must be a place for everything, and everything must be in its place.

Seiso (清掃)

: cleanliness. Indicates the need to keep the workplace clean as well as neat. Cleaning in Japanese companies is a daily activity. At the end of each shift, the work area is cleaned up and everything is restored to its place.

Seiketsu (清潔)

: standards. Allows for control and consistency. Basic housekeeping standards apply everywhere in the facility. Everyone knows exactly what his or her responsibilities are. House keeping duties are part of regular work routines.

Shitsuke (躾)

: sustaining discipline. Refers to maintaining standards and keeping the facility in safe and efficient order day after day, year after year.
Labels: Chemical Engineering, Cooling Tower, Jobs, Pump
posted by Kipas Repair JB @ 10:43 PM,

0 Comments:
The Author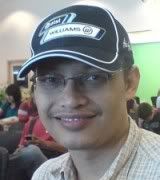 I'm Zaki. I used to be a project, process and chemical engineer. Few years ago I successfully became a Chartered Engineer (IChemE) and Professional Engineer (BEM). I'm now employed as a chemical engineering educator/researcher/consultant. Hope you like reading my blog. I welcome any feedback from you. My email: zaki.yz[alias]gmail.com. TQ!