I'm developing a website to collect and centralize chemical engineering information and knowledge, news and updates, links and subjects. This will definitely take some time to complete but it is actually a continuous progressive process. I'll keep on updating the site with notes and links that I found useful for chemical engineers. For the time being the website is simple and only few but good contents are available inside it. I welcome any inputs and comments in improving the site. For the time being, you can check out: Chemical Engineering Articles.
Labels: Chemical Engineering, Learning Curve
posted by Kipas Repair JB @ 1:35 AM,

0 Comments:
The Author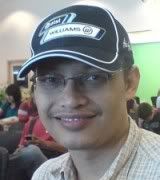 I'm Zaki. I used to be a project, process and chemical engineer. Few years ago I successfully became a Chartered Engineer (IChemE) and Professional Engineer (BEM). I'm now employed as a chemical engineering educator/researcher/consultant. Hope you like reading my blog. I welcome any feedback from you. My email: zaki.yz[alias]gmail.com. TQ!