This weekend have been a really tiring one for me. Not because I went to work or spent the weekend site seeing or shopping with my family. Not because I sent my car for servicing (my car really needs servicing...). But I worked and burnt the midnight oil to introduce two new supplemental site to my blog for my readers: "Chemical Engineering Forum" and "Chemical Engineering World Jobs". OK, let me explain about them...


Chemical Engineering Forum

I have started the forum for this blog earlier (end of last year). However, I never seriously promoted the forum. Since I have already given a new face lift to this blog last month, I thought of giving the forum a new image and life as well. I changed the entire black colour of the forum to a more refreshing look. I also introduced 7 categories for active and deep discussion of chemical engineering stuffs in the forum:

1. Chemical Engineering in General
2. Oil and Fats Industry
3. Oil and Gas Industry
4. Research and Development : Academia / Post Graduate
5. Research and Development : Industry / Business
6. Practicing Engineer Zone : Chemical Engineering
7. Student Zone : Chemical and Process Engineering

When you arrive at the forum page, you have to first sign up/register. Don't worry, the registration is just a short process. As soon as you register, you're free to read, explore and participate in the forum. The number of topics available are still small but I'm sure it will grow with time. The forum currently have 23 members. I hope you can join and actively participate and benefit from it big time!


Chemical Engineering World Jobs

This is a new job site powered by simplyhired.com which list down real time chemical engineering jobs in the USA (I don't know when it can show chemical engineer jobs outside USA, I just hope they will do it soon). It is updated daily and which means the available positions are fresh, latest and up to date. I positioned the link to Chemical Engineering World Jobs at the Jobs link above and at the bottom right column of this blog.

One good thing about this site is, related companies can advertise the chemical / process engineer jobs in it with as little as $5/month. The process of job advertising is simple and straight forward. Chances of ads read by potential employee is high as the site only display niche chemical and process engineering jobs. For graduating students and other engineers, it is a good website to shop around for your dream job and establishing your career.

For both the Chemical Engineering Forum and Chemical Engineering World Jobs , I'm continuously improving them so everyone can gain the best out of it.

Labels: Chemical Engineer, Chemical Engineering, Jobs, Learning Curve
posted by Kipas Repair JB @ 7:55 PM,

7 Comments:
The Author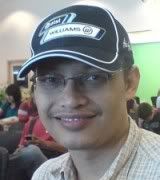 I'm Zaki. I used to be a project, process and chemical engineer. Few years ago I successfully became a Chartered Engineer (IChemE) and Professional Engineer (BEM). I'm now employed as a chemical engineering educator/researcher/consultant. Hope you like reading my blog. I welcome any feedback from you. My email: zaki.yz[alias]gmail.com. TQ!