The photo shows men disembarking chopper on Safe Scandinavia accommodation barge (adopted from oilrig-photos.com). That's a Super Puma chopper. I have traveled on a Super Puma once, that was in 2004 from Kerteh Airport to Kerteh Offshore (I can't recalled which platform I went to with that chopper). Most of the time I traveled on Sikorsky 76 and only few times on a Sikorsky 66. It was such a wonderful and relieved feeling when we safely land on the helicopter pad on the platform. Well, that was long time ago...


Labels: Oil and Gas, Picture of the day
posted by zaki yamani @ 12:11 AM,

2 Comments:
At Sunday, July 15, 2007, icalvyn said...

At Sunday, July 15, 2007, zaki said...
Links to this post:
The Author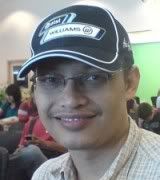 I'm Zaki. I used to be a project, process and chemical engineer. Few years ago I successfully became a Chartered Engineer (IChemE) and Professional Engineer (BEM). I'm now employed as a chemical engineering educator/researcher/consultant. Hope you like reading my blog. I welcome any feedback from you. My email: zaki.yz[alias]gmail.com. TQ!