The following information is more towards the Oil and Gas field, especially exploration and production area. Check out the infos that was delivered to my mailbox.

Hart Energy Publishing and E&P are pleased to announce that RPSEA will co-present BOMA 2007. Hart Enery Publishing and E&P Magazine announce the Research Partnership to Secure Energy for America (RPSEA) has agreed to co-present the 3rd annual Optimizing Mature Assets (BOMA 2007) on November 1, 2007 at the Hyatt Regency in Houston. So, if you happen to be around that area, drop by and check out the convention.


RPSEA is a non-profit corporation formed by a consortium of premier U.S energy research universities, industries and independent research organizations. RPSEA's mission is to provide a stewardship role in ensuring the focuses research, development and deployment of safe, environmentally sensitive technology that can effectively deliver hydrocarbons from domestic resources to the citizens.

BOMA 2007 will explore opportunities for mature asset optimization offshore. Also discussed will be the emerging problems in mature offshore fields, such as sustained casing pressure, in addition to emerging technical solutions.

Major topics at BOMA 2007 will include:

- Prospectivity in Mature Areas
- Reservoir Imaging and Modelling
- Regional Prospectivity
- Re-entry and Infill Drilling
- Evolving Business Models
- Well Intervention
- HSE Issues
- Infrastructure Issues
- Regulatory Issues
- Maturation of Deepwater fields
- Emerging Technology for Mature Assests

Preliminary Agenda:

Click here to view the Agenda. Register now by clicking here.
Labels: Learning Curve, Oil and Gas, Seminar
posted by Kipas Repair JB @ 10:59 PM,

3 Comments:
At Wednesday, July 04, 2007, mostlyepiphanies said...

Assalamualaikum,

Saudara zaki daripada Malaysia ke?Nama saya Aizuddin Anuar,student first year di University of New South Wales (UNSW) Australia pursuing Bachelor of Engineering (Chemical) under tajaan petronas.

Nanti bila balik Malaysia,Insya-Allah kerja dengan petronas.Boleh saudara explain tentang apa yang actually process/chemical engineer buat dalam oil & gas industry macam petronas?Since saya takde clear idea lagi apa yang saya akan buat bila kerja nanti.

kalau senang boleh contact,
aizuddinanuar@gmail.com

p/s:Bagus inisiatif saudara yang sebegini untuk membantu student2 macam saya ni gain more insight about the field.Good job and Keep blogging!

At Wednesday, July 04, 2007, Kipas Repair JB said...

Yes, Ye kat Malaysia la nie...

Bole, nanti saya explain dalam salah satu post saya...

bila nak habis blajar?

Memang intention saya nak tolong dedahkan pada yang tak tau...sbb dulu saya pun mcm you jugak...tak tau...dulu lagi la...takde info mcm sekarang nie

At Thursday, July 05, 2007, mostlyepiphanies said...
The Author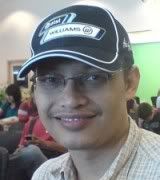 I'm Zaki. I used to be a project, process and chemical engineer. Few years ago I successfully became a Chartered Engineer (IChemE) and Professional Engineer (BEM). I'm now employed as a chemical engineering educator/researcher/consultant. Hope you like reading my blog. I welcome any feedback from you. My email: zaki.yz[alias]gmail.com. TQ!