Does your workplace have a forklift? If yes, you better be extra careful. My workplace have a lot of forklifts. We need those forklift to carry our drums, heavier goods and equipments (motor/pump/spare parts etc). A forklift do not have the speed equivalent to a car, but it can be deadly because of its mass and sometimes human carelessness.

A forklift accident recently took place in Hampshire industrial estate, United Kingdom. A lorry driver was crushed to death by a forklift truck in a horror accident. The unlucky man, aged in his twenties, had driven his lorry to Budds Lane in Romsey to deliver sheet metal to the firm Wessex Medical Equipment. It is believed he was hit by a green Mitsubishi forklift truck while he was standing at the back of his lorry and suffered serious injuries. Continue read the full news...
Morale of the story: Be careful wherever you are. Death can happen anytime anywhere even though we're perfectly healthy person.
posted by Kipas Repair JB @ 12:30 PM,

0 Comments:
The Author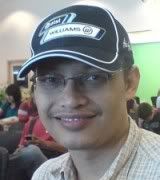 I'm Zaki. I used to be a project, process and chemical engineer. Few years ago I successfully became a Chartered Engineer (IChemE) and Professional Engineer (BEM). I'm now employed as a chemical engineering educator/researcher/consultant. Hope you like reading my blog. I welcome any feedback from you. My email: zaki.yz[alias]gmail.com. TQ!