GAS RECOVERY – THE GOOD, THE BAD & THE UGLY

Gas has always been difficult to handle when discovered, both on land and offshore. You can't put it in a barrel or a tank. You had to have a market and a pipeline. But not any more.

Not with the evolution of new technology such as conversion methods to liquefy the gas - GTL, LNG, methanol, or the development of approved CNG carriers. Putting such equipment onto FPSO-type vessels could be the solution to all the stranded gas around, not just in Asia, but around the globe wherever gas fields are found. Sometimes it might even be cheaper to pipe gas back offshore for compression, rather than run expensive pipelines around protected areas. This is a solution looking for a problem. The future is now.

Here's your chance to take a long-awaited look at the techniques and technologies available to recover stranded or uneconomical offshore gas reserves at the OSEA2006 Gas Recovery Conference!

Hear from the experts as they debate the pros and cons of various gas recovery methods at the Roundtable • Which method is likely to be the most expensive? • Most efficient in terms of total recovery? • Most difficult to install and maintain? • What are the relative weaknesses and strengths of the different systems? • What is the time scale for implementation of each? • To buy or to lease? What are the life span and long range economics?

Have all your burning questions answered at the interactive Q&A sessions!

PLUS! Don't miss out on the other two conferences focused on Upstream and Production technologies.


SCHEDULE-AT-A-GLANCE
Preview the Schedule-at-a-Glance, conference topics and speakers at www.osea-asia.com/Conference_Programme.htm

LIMITED SPEAKING OPPORTUNITIES
If you're still interested in presenting a paper at the conference, please email cs@sesallworld.com with your proposal.

CONFERENCE REGISTRATION
Visit www.osea-asia.com/registration.htm to secure your seat today or contact the Conference Team at Tel: +65 6233 8622,
Email: cs@sesallworld.com

Seats are filling up fast! Sign up for the OSEA2006 Conferences today to avoid disappoint.

CONNECT WITH MAJOR PLAYERS ACROSS THE OIL AND GAS VALUE CHAIN AT THE CONCURRENT OSEA2006 EXHIBITION

• View the hottest new technologies from over 800 companies, coming from more than 48 countries

• See pavilions from Australia, China, Germany, Italy, Norway, UK and USA

• Meet more than 10,000 industry and business professionals from over 60 countries

• Network with market leaders at the OSEA Networking Night and Golf Tournament

Click here to pre-register for the exhibition.
posted by Kipas Repair JB @ 8:42 PM,

0 Comments:
The Author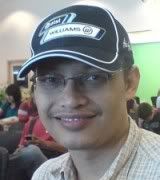 I'm Zaki. I used to be a project, process and chemical engineer. Few years ago I successfully became a Chartered Engineer (IChemE) and Professional Engineer (BEM). I'm now employed as a chemical engineering educator/researcher/consultant. Hope you like reading my blog. I welcome any feedback from you. My email: zaki.yz[alias]gmail.com. TQ!