The pass 2 weeks was a very tough for me at work. And it's not going to end. This is just the beginning. A major part of my job is to take care a very big physical refining plant, with a capacity of 3000MT/day running 24 hours for about 355 days a year together with a very experience senior production executive. Another major part of my job is to take care of quite a number of projects and utilitiy jobs inside the factory. This consume a lot of my time and as a result, my duty and time for plant is not much. I always depend on my senior colleague when it comes to the plant matter. I just started co-taking care of the plant with him for about 1.5 years now.

My worse night mare have come. My senior colleague was offered a very good job and position elsewhere. The payment is damn good too. And for that, I guess, I'm going to take care the plant alone. I really don't mine taking care of the plant if I have all the knowledge and skill to control and take care of the plant. The problem is that the knowledge and skill is still not sufficient for me to take care of the biggest physical refining plant in south johor alone. I need some assistance. Between last week and this coming week, I'm racing against time to learn as much as possible everything in detail about the plant from the senior production executive. It's a very big plant. It's a very fast plant. It's a very damn important plant. I cannot effort to make any mistake in delivering instruction to my subordinates or controling the plant. I have to be 24 hours alert of what's happening to the plant because the plant is running 24 hours.

This job might look simple for those who're already experience. But for me, I'm still considered new and fresh to this plant although I know and can understand the theoretical part of the plant.
Well, I have to face this challenge. I have no choice. There're not other people to fit in here. I'm going to face it...wish me luck..you guys...pray for me....God help me....
posted by Kipas Repair JB @ 5:27 PM,

0 Comments:
The Author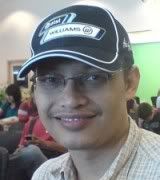 I'm Zaki. I used to be a project, process and chemical engineer. Few years ago I successfully became a Chartered Engineer (IChemE) and Professional Engineer (BEM). I'm now employed as a chemical engineering educator/researcher/consultant. Hope you like reading my blog. I welcome any feedback from you. My email: zaki.yz[alias]gmail.com. TQ!