Today, the cooling tower water quality does not changed much. It is still about the same colour as yesterday. Scum and foam began accumulating on the surface of the water. It is not a nice scenery. It looks terrible. Some foam and water sample was taken yesterday and sent to the lab for analysis. The lab tested the IV (iodine value) of the oil extracted from the foam and water. The IV was 100+. That gave a very clear indication of what oil is leaking into the cooling water system and from which heat exchanger and plant too. It was soya bean oil who have that very high IV. Palm oil and coconut oil which was running in my plant have IV of about 52 and 9, respectively. Another plant was running soya bean for about 3 days already and the plate heat exchanger in that plant is suspected to have internal leak. Tomorrow, some fitters from maintenance department will dismantle and replace the gasket for that problematic heat exchanger. Let's see what's going to happen tomorrow.
Labels: Cooling Tower, Heat Exchanger, Problem
posted by Kipas Repair JB @ 9:21 PM,

3 Comments:
At Sunday, September 09, 2007, Geoffrey Bernardo Van Wyk said...

At Sunday, September 09, 2007, said...

At Monday, July 21, 2008, said...
The Author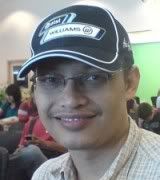 I'm Zaki. I used to be a project, process and chemical engineer. Few years ago I successfully became a Chartered Engineer (IChemE) and Professional Engineer (BEM). I'm now employed as a chemical engineering educator/researcher/consultant. Hope you like reading my blog. I welcome any feedback from you. My email: zaki.yz[alias]gmail.com. TQ!