Time is running swiftly. We stopped the plant on Monday, and now Friday is over. In day #5, we had the JKKP (Department of Safety & Health - DOSH) inspector inspecting all our pressure vessels and high pressure boiler. Everything was smooth and working perfectly fine. Immediately after the JKKP inspector left, we boxed-up the vessels and high pressure boiler. We fixed back the Niagara filter leaf. We did some cleaning as well. Tomorrow, we are going to complete balance maintenance job. Later, we will carry on with steam and air test. Finally, we shall start up the plant. Hopefully we'll have a perfect start up.
Labels: Plant Shutdown
posted by Kipas Repair JB @ 12:27 AM,

2 Comments:
At Saturday, February 24, 2007, zura said...

At Sunday, February 25, 2007, said...
The Author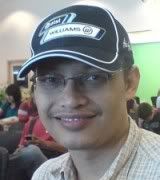 I'm Zaki. I used to be a project, process and chemical engineer. Few years ago I successfully became a Chartered Engineer (IChemE) and Professional Engineer (BEM). I'm now employed as a chemical engineering educator/researcher/consultant. Hope you like reading my blog. I welcome any feedback from you. My email: zaki.yz[alias]gmail.com. TQ!