I came home from work and it was already midnight. I like it this way because I can escape the heavy traffic jam. It was quite a hectic day at work especially when the shutdown just started. We have to do a lot of activities to stop the plant. I experienced and learned a lot of things and would like to share it with my loyal readers. The only thing is that, I cannot tell all of it in one shot. Due to time limitations, I will share them bit by bit.
We did the steam test to check and detect leakages in the vacuum pipe. This is because the vacuum system in the plant is poor. We build up the pressure to 1.8 bars and inspected the line. It's easy to view some leakages because it is simply very obvious because steam came out from it. While we already settled with the number of leakages that we found earlier, we discovered a few more very tiny leakages that is impossible to see. They were extremely small and appeared like a crack. Very small droplet of water appeared out of the pipe after the steam test was set up to 1.8 bars. We marked the leaking points with some red colour spray. The maintenance fitters will possibly weld or clamp or replace the leaking point tomorrow.
I hope after all the discovered leaking pipe problems have been solved, the vacuum system will be improved and the plant will be in a better shape than before.
Labels: Plant Shutdown
posted by Kipas Repair JB @ 1:45 AM,

0 Comments:
The Author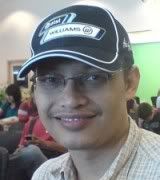 I'm Zaki. I used to be a project, process and chemical engineer. Few years ago I successfully became a Chartered Engineer (IChemE) and Professional Engineer (BEM). I'm now employed as a chemical engineering educator/researcher/consultant. Hope you like reading my blog. I welcome any feedback from you. My email: zaki.yz[alias]gmail.com. TQ!