It was day 4 of the plant shutdown and it's nearly coming to an end. It was also a wet wet world in the plant. We have to do a lot of washing and cleaning. Tomorrow will be the JKKP inspection day and we have to ensure that the plant and pressure vessels are perfect and clean. Just now, we removed scrap metal, spent earth, damaged insulation and other waste / rubbish. Darkish and dirty floor with oil traces was mopped and cleaned. In general, I'm pleased with the work performed by my down line.
Labels: Plant Shutdown
posted by Kipas Repair JB @ 1:03 AM,

0 Comments:
The Author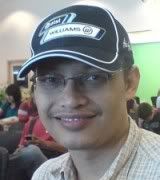 I'm Zaki. I used to be a project, process and chemical engineer. Few years ago I successfully became a Chartered Engineer (IChemE) and Professional Engineer (BEM). I'm now employed as a chemical engineering educator/researcher/consultant. Hope you like reading my blog. I welcome any feedback from you. My email: zaki.yz[alias]gmail.com. TQ!