It's a public holiday in Malaysia now with people celebrating Chinese New Year. Everybody is gathering with their family or having a great vacation in various places. However, again I have another plant shutdown and therefore I could not enjoy my holiday. Of course, we had plant to go to Kuantan to visit my in laws, but that could not happen. Maybe next time.

For this shutdown, my working time will be slightly different. I'm going to work from 2 pm to 11pm. My senior colleague will be in charge in the morning until 5 pm. We have to properly monitor the shutdown work to ensure everything is OK. That's why we split our working time. The whole process will take 1 week to complete and I hope everything will run silky smooth.

My wife wrote something about my duty inside her blog.
Labels: Plant Shutdown
posted by Kipas Repair JB @ 10:53 AM,

2 Comments:
At Monday, February 19, 2007, zura said...

At Tuesday, February 20, 2007, Kipas Repair JB said...
The Author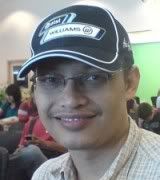 I'm Zaki. I used to be a project, process and chemical engineer. Few years ago I successfully became a Chartered Engineer (IChemE) and Professional Engineer (BEM). I'm now employed as a chemical engineering educator/researcher/consultant. Hope you like reading my blog. I welcome any feedback from you. My email: zaki.yz[alias]gmail.com. TQ!