I use to think painting was simple and easy. But, when it comes to painting pumps, heat exchanger frame, walls, beam etc it opens a new chapter of knowledge inside me. Yesterday, we met with Nippon paint supplier. We learned something new about metal surface, epoxy, coating technology and others.
As I mentioned earlier in my previous post regarding 5S, we intend to improve the cleanliness and condition of our plant. We want the paint to last for about 2-3 years minimum. We don't want the paint to be nice for only a few months time before it faded and chipped of.

Initially, the supplier said that zinc chromate should be applied to prevent corrosion from progressing on the metal surface. It acts as a primer (which means the first layer to be appllied on the metal surface). Then, undercoat or finishing coat will be applied and this depends on how much cost we are willing to pay (either to have single coat or double coat). Having 2 layers of coating is better but the price is higher.
However, after considering the high temperature of pumps and heat exchanger frames and other tough environment factors in the plant, a primer layer of epoxy was suggested. Earlier, I heard that epoxy as a primer is the best to suit for tough environment, but technically I don't really know the chemistry detail behind it. A special coat (that will create stronger bond with the epoxy primer) will ensure that the quality of paint and its colour will last longer. Those combination will be slightly more expansive due to its quality.

We did get some advice on the correct painting technique and other relevant informations. Now, I'm waiting for the quotation of the primer and coating (paints).

Following is the correct painting technique from Nippon
Painting The Right Way

Now that you have chosen your ideal colours and type of finish, here are a few important tips to make your paint job came out with flying colours.

1. Prepare the Surface
The most important stage. Ensure all surfaces are clean, dry and grease-free.

Wash with water & liquid detergent.

For heavy and stubborn stains, use turpentine and wash thoroughly.

Fungus & mould: remove as above, followed by fungicidal wash or bleach.
2. Apply the Sealer or Primer

3. Apply the Undercoat

4. Apply the Finishing Coat

5. Be responsible to the environment
Do not dispose of unwanted paint down drains.

Allow paint to dry out in the container before dropping them into the rubbish bins.
Get some painting tips from Nippon
Learn more from http://www.nipponpaint.com.my/
Labels: Chemical Engineering, Heat Exchanger, Pump, TQM
posted by Kipas Repair JB @ 10:54 PM,

0 Comments:
The Author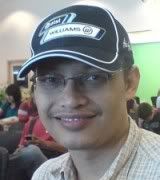 I'm Zaki. I used to be a project, process and chemical engineer. Few years ago I successfully became a Chartered Engineer (IChemE) and Professional Engineer (BEM). I'm now employed as a chemical engineering educator/researcher/consultant. Hope you like reading my blog. I welcome any feedback from you. My email: zaki.yz[alias]gmail.com. TQ!