Yesterday, my plant was internally audited. The auditors checked our International Organization for Standard (ISO) and Hazard Analysis Critical Control Point (HACCP) documents thoroughly. Few of the GMP (Good Manufacturing Practice) documents were reviewed as well. It took the auditors 4 hours to go through some of the documents. Besides interviewing me, the auditors interviewed the plant supervisors as well. By having an internal audit like this, we are continuously improving our documentation system. At the closing meeting, we were awarded 3 Non-conformance (NC), for not complying with the ISO and HACCP standard. I'll take appropriate corrective action towards the NC's charged to us.

Tomorrow, I'm going to be an internal auditor to audit two departments in my work place. One must be a trained auditor to carry out an audit. For that, today, I have made early preparation by reading that department's ISO documents. It's quite a new field to me, but at least I'm learning something non-technical from other department's operation and documentation.

An important thing to take note is, whenever, we charge a Non-conformance (NC), we must include a prove and associate the non-compliance with the right clause from the ISO or HACCP standard.

If you enjoyed this post then subscribe to my RSS feed.
Labels: Chemical Engineering, Learning Curve, TQM
posted by Kipas Repair JB @ 7:18 PM,

1 Comments:
At Sunday, October 04, 2009, Unknown said...

Hi

I like this post very much. It help me to solve some my work under my director's requirements.

Apart from that, below article also is the same meaning

HACCP audit

Tks again and nice keep posting
Rgs
The Author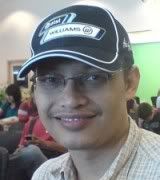 I'm Zaki. I used to be a project, process and chemical engineer. Few years ago I successfully became a Chartered Engineer (IChemE) and Professional Engineer (BEM). I'm now employed as a chemical engineering educator/researcher/consultant. Hope you like reading my blog. I welcome any feedback from you. My email: zaki.yz[alias]gmail.com. TQ!