This is a local news about a very successful chemical engineer who is going to marry the prince of Perak (Raja Muda of Perak). When the news was recently announced in the TV, I did not notice that she's a chemical engineer. I knew about it from the newspaper and after reading few sites in the internet. She has a very good career track record as a chemical engineer (I'm really impressed, read more below...) and she should definitely be a role model for all junior and student chemical engineers (especially for female). The following writing was adopted from New Strait Times.

.....Zara Salim Davidson is a first-class honours graduate in chemical engineering, a certified lifesaver, a state swimmer, a member of her school's squash and tennis teams, and, now, she will be married on May 17 to one of the country's most eligible bachelors — the Raja Muda of Perak, Raja Dr Nazrin Shah.
Zara, 34, was born in Ipoh on March 22, 1973, the youngest and only girl of four children, to William Davidson and Sharifah Azaliah Syed Omar Shahabudin.
Her bio-data, released by the national news agency Bernama, says Zara has a strong interest in foreign languages. Her early schooling was at SMJK Convent in Ipoh which she represented in squash and tennis from 1988 to 1990.
She also represented her home state Perak in swimming between 1981 and 1987. After completing her A-levels in 1992, she left to study chemical engineering at
Nottingham University
— by coincidence, also the alma mater of her father-in-law to be,
Sultan Azlan Shah
.
The
Sultan of Perak
read law at Nottingham and was conferred the Bachelor of Laws degree in 1953 before being admitted to the English Bar in 1954.
Zara excelled in
Nottingham University
. She won the top student award for her final year project and graduated with first-class honours in chemical engineering in July 1995.
Zara joined national oil company
Petronas
in December 1995 and was a member of the team responsible for successfully establishing the Kertih and Kuantan integrated petrochemical complexes, whose foreign partners included
BP
,
BASF
,
Dow Chemicals
and
Mitsubishi
.
She went on to become a project analyst in the Petronas Petrochemical Business Unit and was part of the core team developing the Petronas brand essence, which now forms part of the Petronas global branding strategy.
Zara left
Petronas
in November 2001 to become account manager at
Formis Network Services Sdn Bhd
and later was made vice-president of partnerships and alliances at
Formis (Malaysia) Berhad
, a technology-based company, between 2003 and 2005.
For the last two years, Zara, an avowed adventure sports enthusiast, was managing director of Forthwave Consulting Sdn Bhd, a hydrocarbon technical engineering and software development company in Kuala Lumpur......
Read more from Bernama News


Enjoyed this post?
Subscribe to CHEMICAL ENGINEERING WORLD by email.
Or you can also
Subscribe to CHEMICAL ENGINEERING WORLD by RSS.
Labels: Chemical Engineer, News
posted by Kipas Repair JB @ 11:25 PM,

0 Comments:
The Author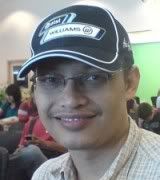 I'm Zaki. I used to be a project, process and chemical engineer. Few years ago I successfully became a Chartered Engineer (IChemE) and Professional Engineer (BEM). I'm now employed as a chemical engineering educator/researcher/consultant. Hope you like reading my blog. I welcome any feedback from you. My email: zaki.yz[alias]gmail.com. TQ!