My job is not flexible enough to allow me to visit the recent Oil and Fats International Congress (OFIC) 2006 in Cairo last March. That's fine. Even if I can go, I don't have the budget!!! If I'm a researcher and I have a research grant and have a paper to present, then I can probably go. I participated in OFIC 2006 in Kuala Lumpur last year. Check out my previous post:

I'm back from the Congress
OFIC 2006 Exhibition
OFIC 2006 Modules

Enough about that, back to OFIC 2007. The aim of the conference was to provide a good overview of the edible oils and fats industry by covering current processes and products together with a look at future trends. Expert speakers were invited from all over the world. Day 1 focused on raw materials and their processing, and Day 2 on applications, both industrial and consumer products. Other subjects covered included quality control, crystallisation , labelling and nutrition.

A colleague of mine from Taiko Clay who went to OFIC 2007 in Cairo was kind enough to email me the link to the list of papers/slides presented during the conference - soci.org.

Among the interesting topic covered during the conference are:

Production and Processing - An Overview of Future Trends
Ken Carlson, Crown, USA

Potentials in Bleaching Earth Reduction - Theoretical Background, Industrial Results
Gunter Börner, OHMI Engineering, Germany

Formulation and use of Frying Oils
Adam Thomas, AarhusKarlshamn, UK

Life Cycle Assessment of Vegetable Oils & Spreads
Erich Dumelin, Unilever, The Netherlands

There are a lot more fantastic and informative titles. Check out soci.org.
The next OFIC 2007 will be held in China. Are you going??

Enjoyed this post? 

Subscribe to CHEMICAL ENGINEERING WORLD by email.


Or you can also 

Subscribe to CHEMICAL ENGINEERING WORLD by RSS.
Labels: Biotechnology, Exhibition, Learning Curve, Oil and Fats, Research
posted by Kipas Repair JB @ 9:46 PM,

0 Comments:
The Author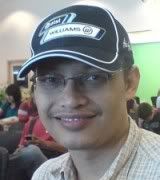 I'm Zaki. I used to be a project, process and chemical engineer. Few years ago I successfully became a Chartered Engineer (IChemE) and Professional Engineer (BEM). I'm now employed as a chemical engineering educator/researcher/consultant. Hope you like reading my blog. I welcome any feedback from you. My email: zaki.yz[alias]gmail.com. TQ!