If you are a regular visitor to this blog, you might be surprised by this moment. It's not dark black anymore... I'm in the process of improving and changing the look of this blog. It may take a few days for me to get everything in place. For the time being, you might see that this blog is missing a lot of its links and other contents. Don't worry, it will be back to normal soon.

I'm doing some improvement in this blog. I'm introducing a new face lift or theme for this blog. I hope it looks more appealing than before. Thanks to Gecko and Fly for the new template of this blog. In addition to that, I'm inserting few more pages to this blog: "links", "jobs", "books", "magazine", contribute" and "search". I hope with those pages, this blog will be more organize instead of everything being packed in one single page. Feel free to check out and utilize those pages. However, I'm still improving and upgrading, adding more content to those pages. So, I apologize if the pages are not perfect yet or still under construction when you visit/click them.

If you are a new visitor to this blog and have great interest in anything associated with Chemical Engineering, then this is the perfect site for you. Learn stuff about Chemical Engineering that is not in your text book such as heat exchanger, cooling tower, boilers, oil and gas updates, conferences and much more. Don't miss any post. Subscribe to this blog and get email updates or RSS feeder. To know me slightly better, go to the "about" page. I've a little summary about myself and my career.


Enjoyed this post? 

Subscribe to CHEMICAL ENGINEERING WORLD by email.


Or you can also 

Subscribe to CHEMICAL ENGINEERING WORLD by RSS.
Labels: Chemical Engineer, Chemical Engineering
posted by Kipas Repair JB @ 11:08 PM,

3 Comments:
At Wednesday, June 27, 2007, said...

At Saturday, June 30, 2007, maer wan said...

zaki dude,

the blogs seems nicer now..

seriousl, from my honest point of view, the theme now makes the blog seems more professional and informative..

easire links, and clearer contrast between fonts of the writing and the background!

i like it! keep it up, bro!

At Sunday, July 01, 2007, Kipas Repair JB said...
The Author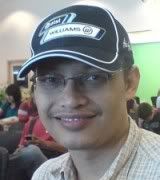 I'm Zaki. I used to be a project, process and chemical engineer. Few years ago I successfully became a Chartered Engineer (IChemE) and Professional Engineer (BEM). I'm now employed as a chemical engineering educator/researcher/consultant. Hope you like reading my blog. I welcome any feedback from you. My email: zaki.yz[alias]gmail.com. TQ!